01.10.2014 | original article | Ausgabe 4/2014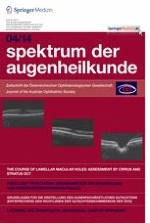 The course of lamellar macular holes: assessment by Cirrus and Stratus OCT
Zeitschrift:
Autoren:

MD Shilla Lie, MD Christiane I. Falkner-Radler, MD Susanne Binder
Summary
Background
To investigate vitreoretinal relationships and intraretinal changes in the course of lamellar macular holes (LMH).
Material and methods
Cirrus and Stratus optical coherence tomography (OCT) scans of 28 eyes were seen in regular intervals and reviewed in a mean follow-up of 13 months.
Main outcome measures were epiretinal membranes (ERM), posterior vitreous detachment (PVD), vitreopapillary adhesion (VPA), intraretinal cystoid spaces (ICS), a break in the inner segment (IS)/outer segment (OS) layer and in the external limiting membrane (ELM), the widest diameter and central retinal thickness (CRT), distance and near visual acuity (VA).
Results
A total of 22 (79 %) eyes had an ERM, 6 (21 %) eyes showed a PVD. Out of these 5 eyes with ERM underwent pars plana vitrectomy (PPV) for VA deterioration and metamorphopsia. ICS were found in 2 of 28 eyes, a break in the IS/OS layer and a break in the ELM in 4 and 2 eyes, respectively. VPA was found in 10 eyes.
Conclusions
The technical advantages of the Cirrus OCT were irrelevant for the diagnosis, but it was superior to the Stratus OCT in distinguishing between IS/OS, ELM, and ICS. An associated ERM was detected in 79 % of the eyes. VPA was found in 10 patients. Eyes with VPA tended to a higher progression in LMH width. LMHs developed slowly with stable vision, but deteriorated slightly in reading vision. Future prospective investigations are required to study the role of VPA in the course of LMHs and to define guidelines for surgical intervention in patients with clinically relevant visual impairment.