25.05.2020 | case report | Ausgabe 19-20/2021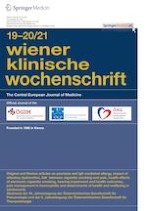 Low dose intravenous immunoglobulin in addition to cyclophosphamide in systemic sclerosis
Single centre experience
Zeitschrift:
Autoren:

MD, PhD Assistant professor Dijana Perković, MD Marin Petrić, MD Ivona Božić, MD Katarina Borić, MD, PhD Assistant professor Daniela Marasović Krstulović, MD, PhD Assistant professor Mislav Radić, MD, PhD Professor Dušanka Martinović Kaliterna
Wichtige Hinweise
Disclosures
Every person listed as author participated in the study, worked with patients, collected data and helped in writing the manuscript. Material preparation and analysis were performed by D. Perković, I. Božić and M. Petrić. The first draft of the manuscript was written by D. Perković and M. Petrić, and all authors commented on previous versions of the manuscript. All authors read and approved the final manuscript.
Preliminary study results were presented in a form of poster presentation at the Central European Congress of Rheumatology, Zagreb, Croatia in 2018.
Publisher's Note
Springer Nature remains neutral with regard to jurisdictional claims in published maps and institutional affiliations.
Summary
Aim
Systemic sclerosis (SSc) is a rare chronic disease characterized by pathologic collagen deposits in the skin and internal organs. Although it is considered to be an autoimmune disease, immunosuppressants have a limited effect on severe SSc. Intravenous immunoglobulins (IVIG) have shown favorable effects in patients with SSc by suppressing the action of profibrotic cytokines, so they could have additional effect on standard treatment such as cyclophosphamide (CYC). This article presents the immunomodulatory effect of low-dose IVIG in addition to CYC in the treatment of severe SSc in this center during the last 9 years.
Methods
This retrospective observational study analyzed the medical documentation of nine patients with SSc treated with low-dose IVIG (0.4 g/kg and month) together with intravenous CYC (600 mg/m2 and month). The therapeutic effect on lung and skin manifestations was assessed.
Results
Of the patients one had interstitial lung diseases (ILD), two had progressive skin diseases, and six had a combination of skin and lung involvement. The best results were achieved in skin changes, where complete healing of digital ulcers (DU) was recorded in every reported case. A decrease in the modified Rodnan skin score (mRSS) was noted in three patients and increased diffusion capacity of the lungs for carbon monoxide in another three patients.
Conclusion
The results of the study suggest that IVIG may be an additional treatment option together with CYC for patients for whom other therapies have failed, but further studies on the exact role of IVIG in the treatment of severe SSc are required.