20.07.2020 | review article | Ausgabe 19-20/2021 Open Access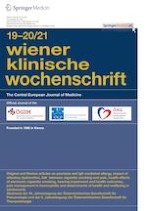 Health effects of electronic cigarette (e‑cigarette) use on organ systems and its implications for public health
Zeitschrift:
Autoren:

M. A., M.Sc. Radhika Seiler-Ramadas, Isabell Sandner, Mag.rer.nat., PhD Sandra Haider, Dr.med. Dr.scient.med. Igor Grabovac, Dr. MPH Assoc. Prof. Thomas Ernst Dorner
Wichtige Hinweise
Publisher's Note
Springer Nature remains neutral with regard to jurisdictional claims in published maps and institutional affiliations.
Summary
Background
There has been growing concern over the use of electronic cigarettes (e-cigarettes) in recent years. Although advocated as an aid to smoking cessation, there is increasing evidence of harm not just to the respiratory system, but to all other organs in the body. To give a clearer picture on how e‑cigarettes can affect our health, we gathered an overview of the literature on the various health effects of e‑cigarettes and categorized them into how they specifically affect organ systems.
E‑cigarette exposure has produced a range of stress and inflammatory reactions in the pulmonary system, including shortness of breath, coughing, wheezing, bronchial and pulmonary irritations, and impaired pulmonary function. In the oral and gastrointestinal system, gingival inflammation, sore throat, nausea, vomiting, and diarrhea have been reported. Increased tachycardia and blood pressure were reported reactions in the cardiovascular system. In the neurological system headaches, irritability, anxiety, dependence and insomnia were observed. Other effects included ocular irritation, contact dermatitis, acute renal insufficiency, toxicity and potential carcinogenicity. Nevertheless, studies have found improvements in time-based memory and nicotine withdrawal associated with the cessation of conventional cigarette smoking and switching to e‑cigarette use. Also, toxic and carcinogenic metabolites were reportedly lower in e‑cigarette smokers than in conventional cigarette smokers.
Conclusion
A growing number of studies are showing the adverse effects caused by e‑cigarettes on all human organ systems. Further research on the chemical components, the diverse flavors, and the long-term effects on active and passive users are needed to clarify the implications of e‑cigarette use on individual and public health.