01.03.2017 | original article | Ausgabe 1/2017 Open Access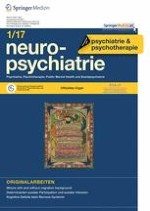 Psychiatric emergencies of minors with and without migration background
Zeitschrift:
Autoren:

Türkan Akkaya-Kalayci, Christian Popow, Thomas Waldhör, Dietmar Winkler, Zeliha Özlü-Erkilic
Summary
Background
The conditions of children and adolescents with migration background receiving emergency psychiatric care in Europe are not well known. Migrants usually attend regular psychiatric care less frequently than the autochthonous population. We therefore speculated that, being undertreated, they would be overrepresented among psychiatric emergency care patients.
Methods
We retrospectively analyzed the records of 1093 minors aged 4‑18 years treated during a period of three years at the psychiatric emergency outpatient clinic of the Department of Child and Adolescent Psychiatry at the Medical University of Vienna.
Results
More minors with migration background than natives consulted our emergency clinic. Most frequent reasons for referral were suicide attempts by Turkish patients, acute stress disorder in Serbian/Croatian/Bosnian and in Austrian patients. Psychiatric diagnoses like eating and personality disorders were mostly diagnosed in natives. We found gender specific differences between the groups.
Conclusions
The reasons for these differences possibly relate to deficits of adequate mental health-care in Austria, to intercultural and intrafamiliar conflicts related to acculturation distress in the migrant population. Prospective longitudinal studies focusing on the utilization of mental health care by the migrant children and the impact of the migration background on their mental health are needed for improving adequate culture-sensitive mental-health care for this population.