17.04.2019 | original article | Ausgabe 9-10/2019 Open Access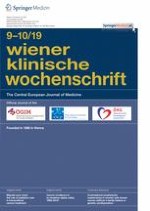 Migrate your mind: the role of palliative care in transcultural cancer treatment
A qualitative analysis
Zeitschrift:
Autoren:

MD Sophie Roider-Schur, MSc Tamara Rumpold, MSc PhD Kathrin Kirchheiner, MD PhD Eva Katharina Masel, MD Romina Nemecek, MD Prof. Michaela Amering, MD Prof. Herbert Watzke, MD MSc PhD Beate Schrank
Wichtige Hinweise
Availability of data and material
The datasets used and/or analyzed during the current study are available from the corresponding author on reasonable request.
Publisher's Note
Springer Nature remains neutral with regard to jurisdictional claims in published maps and institutional affiliations.
Summary
Background
In increasingly multi-ethnic societies fostering cultural awareness and integration of immigrants is not only a political duty but also an obligation for social and healthcare systems. Importantly, cultural beliefs and needs strongly impact on the quality of life of cancer patients and may become even more crucial at the end of life. However, to date, ethnic and cultural aspects of palliative care are insufficiently researched.
Methods
This qualitative study at the Medical University of Vienna included 21 staff members from different disciplines in oncology and palliative care working with patients with various cultural backgrounds at the end of life. Semi-structured interviews were performed to gain insights into specific aspects of palliative care that are important in the clinical encounter with terminally ill cancer patients with migrant backgrounds and their relatives.
Results
Interviews revealed specific aspects of palliative care, which fell into four fundamental categories and were all perceived as beneficial in the clinical encounter with migrant clients: (A) structural and (B) personal conditions of the palliative care setting, (C) specific care and treatment intentions and (D) personnel requirements and attitudes.
Conclusion
This study revealed first insights into possibilities and prospects of transcultural palliative care for migrants and their relatives. The results might have important implications for the end of life care in this growing population.