01.04.2019 | original article | Ausgabe 9-10/2019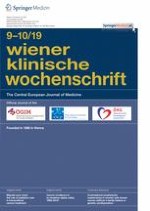 Sexual dimorphism in the anatomy of the ulnar collateral thumb ligament
Zeitschrift:
Autoren:

MD Martin F. Vierhapper, MD, PhD Gabriela K. Muschitz, MD Stefan Hacker, MD, PhD Sandra E. Boesmueller, MD, PhD Michael Pretterklieber, MD, PhD Hugo B. Kitzinger
Wichtige Hinweise
This work was presented at the annual meeting of the Austrian society of plastic and reconstructive surgery in October 2016 in Innsbruck
Publisher's Note
Springer Nature remains neutral with regard to jurisdictional claims in published maps and institutional affiliations.
Summary
Background
Treatment of ruptured ulnar collateral thumb metacarpophalangeal (MCP) joint ligaments (UCL) necessitate a profound anatomic knowledge for optimal surgical repair in order to preserve range of motion and ensure postoperative joint stability. Therefore, knowledge of the angle between the UCL and the longitudinal axis of the first metacarpal bone could be useful.
Methods
In this study 46 ulnar collateral thumb MCP joint ligaments in 15 male and 15 female embalmed anatomic specimens were dissected and the angles between the longitudinal axis of the first metacarpal bone and the proper (PUCL) as well as the accessory ulnar collateral thumb MCP ligament (AUCL) were measured.
Results
In male specimens the angle for the PUCL measured on average 133.5° (±2.35°) and 122.75° (±3.8°) for the AUCL. A significantly different angle was measured for female specimens which showed on average 137.88° (±3.51°) for the PUCL and 128.65° (±4.14°) for the AUCL.
Conclusions
Optimal surgical repair or reconstruction of torn ulnar collateral thumb MCP joint ligaments should aim for an angle of approximately 135° in PUCL and 126° in AUCL in relation to the longitudinal axis of the metacarpal bone. Differences in men and women should be considered if possible.
Level of evidence
IV (anatomic study).