20.09.2017 | review | Ausgabe 1/2018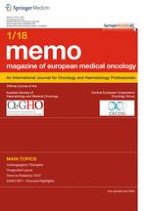 Cell free nucleic acids as diagnostic and prognostic marker in leukemia
Zeitschrift:
Autoren:

Maryam Eini, Seyed Ali Nojoumi, Mohammad-Amin Saki, Abbas Khosravi
Wichtige Hinweise
Authors' contributions
A. Khosravi conceived the manuscript and revised it; M. Eini and M.‑A. Saki wrote the manuscript. S.A. Nojoomi translated the manuscript and M. Eini prepared the tables.
Summary
Nucleic acids in circulation, called cell free DNA (cfDNA) and cell free RNA (cfRNA), have recently been analyzed as suitable diagnostic and prognostic markers in cancer. There have also been several reports about the role of this type of marker in leukemia. The relevant literature was identified by a PubMed search (2000–2017) of English-language literature using the terms "cell free DNA", "Leukemia" and Micro-RNA. Many quantitative and qualitative cfDNA biomarkers including copy number alteration, mutation, LOH and micro-RNA deregulated expression have been investigated in different studies, indicating promising results to distinguish patients from healthy individuals. The findings of this study indicate that nucleic acids in circulation have a high diagnostic and prognostic value in leukemic patients and, thus, have the potential to be used alongside the usual methods in the management of this disease.