21.02.2018 | short review | Ausgabe 1/2018 Open Access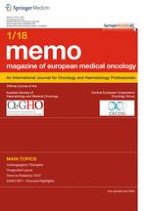 Short overview on the current standard of treatment in newly diagnosed multiple myeloma
Zeitschrift:
Autoren:

Dr. med. Ella Willenbacher, Dr. med. Agnes Balog, Dr. med. Wolfgang Willenbacher
Summary
The treatment of newly diagnosed multiple myeloma has changed dramatically over the past 20 years, from near uniform application of chemotherapy to a patient performance status- and risk-based approach. Furthermore, initiation of treatment criteria have evolved from a pure end-organ damage-based definition to include risk factors of transformation to frank myeloma. Besides, the mainly cytogenetically defined Multiple Myeloma (MM) risk status, transplant eligibility of patients still serves primarily to allocate patients within a rational treatment algorithm.
While all transplant-eligible MM patients should receive a triplet induction therapy followed by autologous transplantation and, in most cases, lenalidomide maintenance, other therapeutic elements (e. g., other maintenance strategies, consolidation, tandem transplantation,..) have to be decided on an individualized appraisal of risk and toxicities. Standard-risk patients should never be undertreated, as they derive the highest relative benefit from using the best available registered therapies. However, high-risk patients should be preferentially treated inside clinical trials testing additive innovative treatments, as the improvement in the prognosis of this group of patients by standard therapies has been underwhelming. Furthermore, the evaluation process of non-transplant-eligible patients should always comprise an evaluation of performance status, frailty, and comorbidities (e. g., a comprehensive geriatric assessment) to facilitate the allocation of individualized therapies.