01.06.2013 | originalarbeit | Ausgabe 3/2013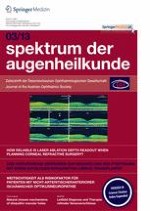 Vascular Endothelial Growth Factor Inhibition bei altersbedingter Makuladegeneration: Einfluss von Rauchgewohnheiten auf den Behandlungserfolg

Zeitschrift:
Autoren:

Johannes F. Menger, Dr. Imme Haubitz, Dr. Tobias Meyer ter Vehn, Dr. Claudia N. von Strachwitz
Wichtige Hinweise
Die Forschungsergebnisse wurden bei der Association for Research in Vision and Ophthalmology (ARVO) 2012 in Fort Lauderdale/USA vorgestellt. Johannes F. Menger, Imme Haubitz, Claudia N. Strachwitz. Influence Of AMD-Risk Factors On The Effectiveness Of Anti-VEGF Therapy In Neovascular Age-related Macular Degeneration. Poster session presented at: ARVO 2012: Association for Research in Vision and Ophthalmology; 2012 May 6–9; Fort Lauderdale, FL, USA.
Zusammenfassung
Hintergrund
In dieser retrospektiven Studie soll der Einfluss von Rauchen, Alter und systemischer Medikation auf den Behandlungserfolg einer Anti-VEGF Therapie bei altersbedingter Makuladegeneration (AMD) über einen Zeitraum von 24 Monaten untersucht werden.
Patienten und Methode
100 Patienten mit choroidalen Neovaskularisationen bei AMD wurden in die Studie eingeschlossen. Best korrigierter Visus (BV), Anzahl der Injektionen in 24 Monaten sowie Rauchgewohnheiten und systemische Medikation wurden für die Analysen berücksichtigt. Ausschlusskriterium war ein BV < 0,1 zu Beginn der Behandlung.
Resultate
42 Raucher (inkl. 31 Exraucher) mit 23,5 Packyears (Py) im Median wurden identifiziert. Je mehr Py ein Patient rauchte, umso niedriger war sein BV nach der letzten Injektion (
p
= 0,009). Je mehr Zigaretten pro Tag ein Raucher rauchte, umso mehr Injektionen erhielt er in 24 Monaten (
p
= 0,0042). Bluthochdruckpatienten hatten einen niedrigeren BV nach der letzten Injektion (
p
= 0,045).
Schlussfolgerungen
Rauchen ist nicht nur ein Risikofaktor für die Entwicklung einer AMD, sondern auch für die Effektivität der Anti-VEGF Therapie. Auch unter sozioökonomischen Gesichtspunkten ist dies ein weiterer Grund, Patienten zur Aufgabe des Rauchens aufzufordern.