01.06.2012 | short review | Ausgabe 2/2012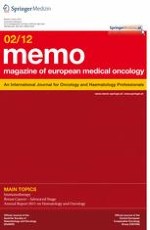 The role of Positron Emission Tomography/Computer Tomography (PET/CT) in the diagnosis, staging, characterization, and therapy of breast cancer
Zeitschrift:
Autoren:

MD Zoltán Lőcsei, MD, PhD Katalin Hideghéty, MD, PhD Dr. habil. Zsuzsanna Kahán
Abstract
PET or PET/CT mostly utilizing the tracer [18F]fluorodeoxyglucose (18FDG) are unique imaging methods for the detection of breast cancers with increased glucolytic activity. PET/CT simultaneously provides anatomic and metabolic information by detecting increased glucose uptake. PET/CT may provide extra information on stage that can be utilized in certain cases during treatment decision making. PET/CT is a very sensitive imaging option to detect lymph node involvement or distant metastasis for which information is needed in selected cases. In the neoadjuvant or metastatic setting, PET or PET/CT may serve as a valuable noninvasive option for investigating chemosensitivity and monitoring the effectiveness of systemic therapy. Its use, however, should be reserved for particular cases with diagnostic uncertainty in the routine management of breast cancer.
Molecular imaging with non-FDG PET tracers developed using advanced molecular and cell biology techniques widens the possibility to study the pathological molecular events and processes in breast cancer, and may be used for the detection of key molecules to be targeted by pharmaceutical interventions; the method provides new possibility to evaluate novel drugs.