01.06.2012 | review | Ausgabe 2/2012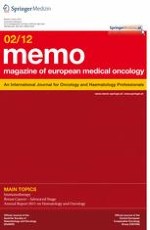 What's new in metastatic breast cancer?
Zeitschrift:
Autor:

MD Rupert Bartsch
Abstract
Overall, breast cancer mortality has declined due to advances in systemic adjuvant treatment in recent years; still, metastatic breast cancer remains an incurable disease. Due to novel treatment options, however, survival was prolonged even in patients with advanced-stage disease. In hormone-receptor positive breast cancer, endocrine therapy is the mainstay of treatment. Currently, different strategies are being evaluated to overcome resistance to anti-hormonal interventions, with the aim to prolong the chemotherapy-free interval. In Her2-positive breast cancer, anti-Her2 targeted therapies such as trastuzumab or lapatinib have improved patients' outcome. Further substances—antibodies or novel tyrosine-kinase inhibitors—will increase therapeutic options in the future. Limited progress was achieved in the triple-negative sub-type. Bevacizumab, a monoclonal antibody targeting the vascular endothelial growth factor, is currently the only biological agent available in this sub-type. In combination with paclitaxel or capecitabine, bevacizumab offers clinically meaningful activity in metastatic breast cancer patients. Other strategies, such as treatment with DNA-damaging agents or the inhibition of DNA-repair mechanisms were not successful so far in a general triple-negative population. This article reviews recent developments and future trends in the field of metastatic breast cancer.