01.06.2012 | short review | Ausgabe 2/2012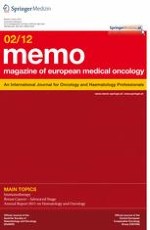 Breast cancer: is there a need for biopsy of metastases?
Zeitschrift:
Autoren:

MD, PhD Flora Zagouri, PhD Martin Filipits
Abstract
Hormone receptors and the human epidermal growth factor receptor 2 (HER2) are important pharmaceutical targets that affect the survival of patients with metastatic breast cancer. Knowledge of their expression and/or amplification status is crucial for determining the optimal treatment. However, a discordance of hormone and HER2 receptors of primary and metastatic breast cancer has been observed in several studies. Whether discordant cases represent a true biological phenomenon and are due to clonal selection by chemotherapy, targeted anti-estrogen or anti-HER2 therapy or whether they may result from inconsistent measurement is still debated. This review article presents prospective and retrospective studies that have addressed these issues as well as the underlying responsible mechanisms. Finally, it concludes that a biopsy of metastatic disease can be recommended, when safe and easy to perform because treatment options might change for a significant proportion of patients.