22.02.2017 | original article | Ausgabe 17-18/2017 Open Access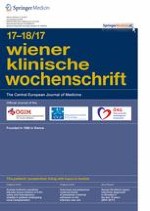 The patients' perspective: living with lupus in Austria
Zeitschrift:
Autoren:

Georg Stummvoll, Tanja Stamm
Summary
Systemic lupus erythematosus (SLE) is a heterogeneous disease with a vast variety of clinical manifestations. Timely diagnosis is important for gaining access to specific therapy and care. In this survey, we asked SLE patients with an established diagnosis to report about their personal history and their daily life with SLE in order to gain knowledge about diagnostics, treatment pathways and potential problems in daily living and functioning. In most cases, the diagnosis of SLE was made by a specialist in rheumatology or dermatology. Of the patients 41.5% were diagnosed within the first year after onset of disease symptoms, while 37.3% of the patients waited for 3 or more years for the final diagnosis of SLE. Interestingly, we found no differences with respect to patients living in urban or rural areas. Specific therapy worked well in many but not in all patients: the majority of patients reported problems with paid work, social life and leisure activities including traveling. Patients reported a need for better information for the general public about SLE. In addition, they wanted be better informed themselves
.
Despite all successful efforts in recent years, there is still room for improvement with respect to early diagnosis, early start of specific therapy and for better information of the public on the mysterious disorder named SLE.