01.09.2017 | case report | Ausgabe 17-18/2017 Open Access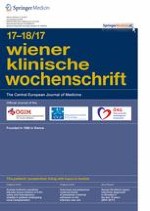 Combined metformin-associated lactic acidosis and euglycemic ketoacidosis
Zeitschrift:
Autoren:

Verena Schwetz, Florian Eisner, Gernot Schilcher, Kathrin Eller, Johannes Plank, Alice Lind, Thomas R. Pieber, Julia K. Mader, Philipp Eller
Wichtige Hinweise
V. Schwetz, J.K. Mader, P. Eller collected data, interpreted data and drafted the manuscript. F. Eisner, G. Schilcher, K. Eller, J. Plank, A. Lind, T.R. Pieber interpreted data, contributed to discussions, and critically revised the manuscript. All authors approved the final version of the manuscript. P. Eller is the guarantor of this work.
Summary
Background
In renal failure metformin can lead to lactic acidosis. Additional inhibition of hepatic gluconeogenesis by accumulation of the drug may aggravate fasting-induced ketoacidosis. We report the occurrence of metformin-associated lactic acidosis (MALA) with concurrent euglycemic ketoacidosis (MALKA) in three patients with renal failure.
Case presentations
Patient 1: a 78-year-old woman (pH = 6.89, lactic acid 22 mmol/l, serum ketoacids 7.4 mmol/l and blood glucose 63 mg/dl) on metformin and insulin treatment. Patient 2: a 79-year-old woman on metformin treatment (pH = 6.80, lactic acid 14.7 mmol/l, serum ketoacids 6.4 mmol/l and blood glucose 76 mg/dl). Patient 3: a 71-year-old man on metformin, canagliflozin and liraglutide treatment (pH = 7.21, lactic acid 5.9 mmol/l, serum ketoacids 16 mmol/l and blood glucose 150 mg/dl). In all patients, ketoacidosis receded on glucose infusion and renal replacement therapy.
Conclusion
This case series highlights the parallel occurrence of MALA and euglycemic ketoacidosis, the latter exceeding ketosis due to starvation, suggesting a metformin-triggered inhibition of gluconeogenesis. Affected patients benefit from glucose infusion counteracting suppressed hepatic gluconeogenesis.