02.03.2017 | original article | Ausgabe 17-18/2017 Open Access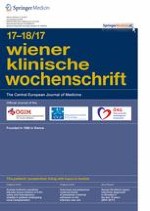 Acetate-buffered crystalloid infusate versus infusion of 0.9% saline and hemodynamic stability in patients undergoing renal transplantation
Prospective, randomized, controlled trial
Zeitschrift:
Autoren:

MD Carmen Pfortmueller, Georg-Christian Funk, Eva Potura, Christian Reiterer, Florian Luf, Barbara Kabon, Wilfred Druml, Edith Fleischmann, Gregor Lindner
Wichtige Hinweise
Institutional Review Board (IRB) contact information
The study was approved by the local institutional review board (EK 1048/2009 and EK 1828/2014), of the Medical University of Vienna, Austria, and registered at a clinical trials registry (NCT01075750). Written informed consent was obtained from every patient included in the study; this report describes a prospective randomized clinical trial. The authors state that every item in the CONSORT checklist is included in the report;
Registry Url
: clincaltrials.gov Identifier: NCT01075750; this manuscript was screened for plagiarism using Plagiarism Checker.
Summary
Background
Infusion therapy is one of the most frequently prescribed medications in hospitalized patients. Currently used crystalloid solutes have a variable composition and may therefore influence acid-base status, intracellular and extracellular water content and plasma electrolyte compositions and have a major impact on organ function and outcome. The aim of our study was to investigate whether use of acetate-based balanced crystalloids leads to better hemodynamic stability compared to 0.9% saline.
Methods
We performed a sub-analysis of a prospective, randomized, controlled trial comparing effects of 0.9% saline or an acetate-buffered, balanced crystalloid during the perioperative period in patients with end-stage renal disease undergoing cadaveric renal transplantation. Need for catecholamine therapy and blood pressure were the primary measures.
Results
A total of 150 patients were included in the study of which 76 were randomized to 0.9% saline while 74 received an acetate-buffered balanced crystalloid. Noradrenaline for cardiocirculatory support during surgery was significantly more often administered in the normal saline group, given earlier and with a higher cumulative dose compared to patients receiving an acetate-buffered balanced crystalloid (30% versus 15%,
p
= 0.027; 68 ± 45 µg/kg versus 75 ± 60 µg/kg,
p
= 0.0055 and 0.000492 µg/kg body weight/min, ±0.002311 versus 0.000107 µg/kg/min, ±0.00039,
p
= 0.04, respectively). Mean minimum arterial blood pressure was significantly lower in patients randomized to 0.9% saline than in patients receiving the balanced infusion solution (57.2 [SD 8.7] versus 60.3 [SD 10.2] mm Hg,
p
= 0.024).
Conclusion
The use of an acetate-buffered, balanced infusion solution results in reduced need for use of catecholamines and cumulative catecholamine dose for hemodynamic support and in less occurrence of arterial hypotension in the perioperative period. Further research in the field is strongly encouraged.