21.06.2017 | original article | Ausgabe 1/2018 Open Access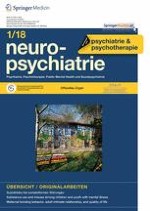 Substance use and misuse among children and youth with mental illness
A pilot study
Zeitschrift:
Autoren:

V. Herz, N. Franzin, J. Huemer, D. Mairhofer, J. Philipp, K. Skala
Summary
Objective
The aim of this study was to examine prevalence, patterns and predictors of substance use among a sample of adolescent psychiatric inpatients.
Methods
Participants included 25 minors aged 12–17 years admitted to an Austrian department of child and adolescent psychiatry. Lifetime use, initiation, frequency and quantity of substance use, sociodemographic, family and school-related data were collected by self-report measures. Substance use disorders were detected using CAGE (a screening instrument for problem drinking) and FTND (Fagerström Test For Nicotine Dependence). Clinical characteristics were extracted from medical records.
Results
Lifetime prevalence of any substance use (76%) and regular use (32%) were common. Prevalence was high for alcohol (76%), nicotine (44%) and illicit drug use (36%). Older age was associated with tobacco (
p
= 0.023), drug (
p
= 0.021) and cannabis use (
p
= 0.015) and regular use of psychotropic substances (
p
= 0.027). Family dysfunction predicted regular (
p
= 0.035) and cannabis use (
p
= 0.02). History of trauma prognosticated regular (
p
= 0.047) and tobacco use (
p
= 0.011). Use of any substance (
p
< 0.001) as well as regular use (
p
= 0.026) were significantly associated with peer substance use. Consuming adolescents were more likely to show academic failure, school absenteeism and behavioral problems. Alcohol (
p
= 0.02), drug (
p
= 0.017) and regular substance use (
p
= 0.007) were linked to suicidal ideation. A remarkable relationship between affective as well as externalizing disorders and alcohol, nicotine and drug use was found.
Conclusions
Substance use is highly prevalent among youth with mental illnesses and associated with psychosocial consequences. These data highlight the need to carefully explore this population at high risk.