01.06.2014 | original article | Ausgabe 3/2014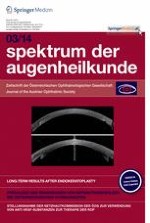 Retinal thickness measurements with optical coherence biometry and optical coherence tomography
Zeitschrift:
Autoren:

MD, PhD Miklós D Resch, MD Judit Takáts, MD Béla Csákány, MD Otto Maneschg, MD Laszlo Marsovszky, MD, PhD Antal Szabó, MD, PhD András Papp, MD, PhD, DSc János Németh
Summary
Aims
Macular disorders are investigated generally with optical coherence tomography (OCT). Aim of our study was to investigate the accuracy of optical coherence biometry (partial interferometry) in eyes with increased central retinal thickness (CRT) due to macular diseases.
Methods
CRT was measured on 12 eyes of 12 patients (age 66.8 ± 5.7 years) by spectral domain OCT (Zeiss Cirrus). Reason of increased CRT was diabetic macular edema in 7 cases, serous neuroretinal detachment in 3 cases, and epiretinal membrane in 2 cases. Optical coherence biometry was performed on the same eyes using Lenstar LS900 (Haag-Streit AG). The Lenstar scans regarding retinal thickness were analyzed after manual adjustment and were correlated with the OCT data.
Results
CRT was measured to be 578.0 ± 60.8 µm (Standard Deviation) by OCT. In contrast, Lenstar measurments comprised only 467.3 ± 33.2 µm. The difference between the two instruments was significant (
p
 = 0.018, Wilcoxon-test), and no significant correlation could be found (
p
 = 0.811, Spearman rank correlation test).
Conclusion
CRT—after manual adjustment—can be measured with optical coherence biometry utilizing partial interferometry. Optical coherence biometry needs improvement in CRT measurements. Central retinal thickness measurements with optical coherence biometry applying Lenstar LS900 is limited in macular pathologies such as epiretinal membrane, macular edema, or exsudative agerelated macular degeneration.