Erschienen in: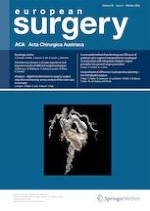 03.06.2022 | original article
A renovated method of performing over 258 cases of pedicled colon segment interposition for esophageal reconstruction with integration of plastic surgery principles into general surgery procedure
Erschienen in: European Surgery | Ausgabe 5/2022
Einloggen, um Zugang zu erhalten
Summary
Background
In the field of reconstruction, there is always room for improvement of results regarding safety, functions, esthetics, and a decrease in complications and morbidities. A complex procedure such as conventional colon segment interposition for esophageal reconstruction can be improved by integrating plastic surgery principles.
Methods
A retrospective study was carried out. Esophagectomies are performed due to malignant diseases such as squamous cell carcinoma of the esophagus and hypopharynx, or benign conditions such as caustic injuries. From 1983 to 2018, a renovated method of colon segment interposition was developed and performed under the collaboration of plastic and general surgeons. It included the following features: 1. skin incision at the neck; 2. identification of the recurrent laryngeal nerve and superior laryngeal nerve; 3. stent placement across the proximal anastomotic site; 4. use of a diversion loop when there is damage of the epiglottis; 5. instruments to create a wide substernal tunnel; 6. supercharge of vessels at the neck to augment the blood supply of the colon segment, indicated in patients with arteriosclerosis and anatomical variation of the colon due to congenital variation or following abdominal trauma; 7. use of a seromuscular flap; 8. use of intraluminal and extraluminal drains at the neck.
Results
In the 258 cases, there was no failed reconstruction, no hoarseness due to nerve damage, and only 2 patients with leakage, which was repaired secondarily. Average follow-up was 8.3 years. Average time to oral intake after completion of reconstruction was 20.4 days.
Conclusion
Brainstorming and collaboration among different subspecialties may lead to solutions for complex problems or improvement of a surgical procedure. To avoid complications of colon segment interposition, the eight steps mentioned above should be highlighted.