01.12.2014 | originalarbeit | Ausgabe 4/2014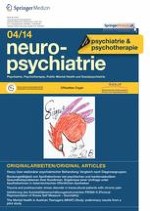 Validierung des Suizidalitätseinschätzungsinstrumentes PRISM-S (Pictoral Representation of Illness Self Measure – Suicidality)
Zeitschrift:
Autoren:

Mariann Ring, Gregor Harbauer, Sebastian Haas, Christopher Schuetz, Andreas Andreae, Andreas Maercker, Vladeta Ajdacic-Gross
Zusammenfassung
Die Erfassung der Suizidalität erweist sich im klinischen Alltag als schwierig und komplex. In der vorliegenden Studie wurde geklärt, ob PRISM sich eignet, die subjektiv wahrgenommene Suizidalität valide zu messen. Die non-verbale Visualisierungsmethode PRISM (Pictoral Representation of Illness Self Measure) wurde von Büchi et al. (2002) entwickelt, um den subjektiven Leidensdruck einer körperlichen Erkrankung zu messen. Es wurde der "PRISM-S" (Pictoral Representation of Ilness Self Measure – Suicidality) verwendet. 156 Patienten, die zur freiwilligen stationären Behandlung ins Kriseninterventionszentrum Winterthur aufgenommen wurden, nahmen an der vorliegenden Studie teil. Als Vergleichsinstrumente und Goldstandards wurden die Beck Scale for Suicide Ideation (BSS) und die Depressive Symptome Inventory – Suicidality Subscale (DSI-SS) verwendet. Die Resultate zeigten eine hohe Korrelation zwischen dem PRISM-S und dem BSS (
r
= − 0,73) bzw. dem DSISS (
r
= − 0,76). Hausärzte, Psychiater und Psychologen erhalten durch PRISM-S ein valides Instrument, um die Suizidalität eines Patienten einfach und schnell zu überprüfen.