01.06.2012 | original article | Ausgabe 3/2012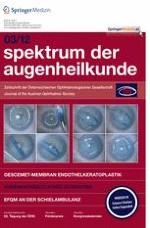 The success of treating keratoconus: visual acuity and follow-up with ultrasound biomicroscopy
Zeitschrift:
Autoren:

MD, PhD Dr. Nicolette Sohar, MD Akos Skribek, MD Zsuzsanna Fulop, MD, PhD Lajos Kolozsvari
Summary
Background
Keratoconus is a progressive, noninflammatory corneal ectasia that is usually treated successfully with contact lenses. Age younger than 30 years was indentified as a risk for penetrating keratoplasty. The high resolution ultrasound biomicroscopy is an 'in vivo' examination method and is suitable for diagnostic and morphometrical examinations. We used this device to diagnose keratoconus and follow its course.
Material and methods
One hundred and fourtyseven patients with keratoconus, among them 65 patients received contact lenses for their 95 eyes, and 16 patients had penetrating keratoplasty on their 19 eyes. Both the structural changes of the cornea after the use of contact lenses as well as before and after penetrating keratoplasty the patients were followed by ultrasound biomicroscopy (Zeiss-Humphrey 840, 50 MHz).
Results
There were 65 patients (95 eyes) with contact lenses. Thirty one patients had lenses on both eyes. After penetrating keratoplasty, early complications occured in 9 whereas late complications in 7 patients. One patient needed repeated penetrating keratoplasty because of allograft rejection. We demonstrated the special ultrasound biomicroscopy signs of the keratoconic patients in cases of wearing contact lenses, and in cases of penetrating keratoplasty.
Conclusions
Both wearing contact lenses and undergoing penetrating keratoplasty could result in a very good visual acuity for a longer time, and good anatomical status is obtained by penetrating keratoplasty.