01.06.2012 | short review | Ausgabe 3/2012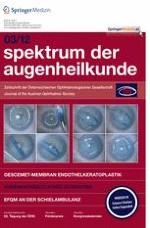 23-gauge versus 20-gauge vitrectomy: analysis of 110 consecutive cases undergoing epiretinal membrane peeling and macular hole repair
Zeitschrift:
Autoren:

MD Martina C. Herwig, MD Nicole Eter
Summary
Purpose
23G vitrectomy is a new approach towards minimal invasive vitreoretinal surgery. However, many concerns have been raised related to its safety. A case-to-case comparison with 20G vitrectomy, therefore, appears prudent.
Methods
Our first 55 consecutive cases treated with 23G vitrectomy for epiretinal membrane peeling and macular hole repair were compared to 55 matching patients treated with 20G vitrectomy.
Results
Patients who underwent 23G surgery had a statistically significant shorter procedure time than the 20G vitrectomy group (20G: 46±15 min; 23G: 33±09 min). We found no higher incidence of endophthalmitis, severe enduring postoperative hypotony, or retinal detachment in the 23G group.
Conclusion
23G vitrectomy is time-saving compared to 20G vitrectomy while being equally safe. Thus, 23G vitrectomy is recommended as standard procedure for epiretinal membrane peeling and macular hole repair.