14.01.2021 | original article | Ausgabe 7-8/2021 Open Access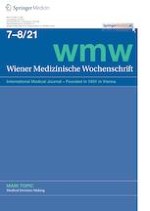 Involvement of medical students in a surgery congress: impact on learning motivation, decision-making for a career in surgery, and educational curriculum
Zeitschrift:
Autoren:

M.A., MaHM Prof. Dr. med. Ibrahim Alkatout, Veronika Günther, Sandra Brügge, Johannes Ackermann, Magret Krüger, Dirk Bauerschlag, Nicolai Maass, Sebastian Lippross, Ingolf Cascorbi, Jan-Hendrik Egberts, Thomas Becker, Daniar Osmonov, Klaus-Peter Jünemann, Thilo Wedel
Wichtige Hinweise
Ibrahim Alkatout, Veronika Günther, and Thilo Wedel contributed equally to the manuscript.
Availability of data and materials
The datasets analyzed during the current study are available from the corresponding author on reasonable request.
Publisher's Note
Springer Nature remains neutral with regard to jurisdictional claims in published maps and institutional affiliations.
Summary
During the preclinical period of medical school, the clinical relevance of theoretical knowledge is given little attention. Medical students of the second year were invited to participate in an interdisciplinary congress for robot-assisted and digital surgery. The students had to evaluate the impact of the congress on their learning motivation, decision-making for a career in surgery, and relevance for their educational curriculum. Participation in the congress increased their learning motivation for preclinical subjects, and significantly increased their interest in a surgical career. Most students considered active involvement in medical congresses a valuable supplement to the medical curriculum. Congress participation during the preclinical period was ranked positively by medical students. Greater learning motivation and enthusiasm for the pilot teaching project as well as for surgical disciplines were registered. Thus, early involvement of medical students in scientific congresses should be an integral part of their educational curriculum.