01.06.2015 | original article | Ausgabe 3/2015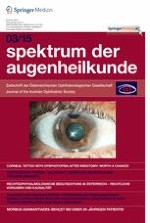 Evaluation of a toric intraocular lens with open-C-loop haptic
Zeitschrift:
Autoren:

MD, MBA Renate Rubey, MD, PhD Kata Mihaltz, MD Andreas Scholler, MD Sibylla Richter-Mueksch, MD Saskia Maca, PhD Georg Heinze, MD Birgit Weingessel, MD, MSc, MBA Pia-Veronika Vécsei-Marlovits
Abstract
Purpose
To assess the rotational stability of a single-piece intraocular lens (IOL) with C-loop haptic during the first six postoperative months.
Setting
Department of Ophthalmology, Hietzing Hospital, Vienna, Austria.
Design
Prospective clinical trial.
Methods
This study enrolled consecutive patients with 1.5 diopters (D) or more of preexisting corneal astigmatism having cataract surgery. Patients had phacoemulsification with implantation of the open-C-loop toric IOL Lentis Unico LU-312 T through a 2.5 mm astigmatically neutral incision. Uncorrected distance visual acuity (UDVA) and best corrected visual acuity (BCVA), refraction, keratometry, and the cylinder axis of the toric IOL were measured. Postoperative examinations were scheduled at week 1, month 1, month 3, and month 6.
Results
A total of 60 eyes of 39 patients were evaluated. The mean preoperative refractive astigmatism was 2.82± 1.34 D (SD) and the mean keratometric astigmatism 2.33 ± 1.10 D, respectively. Six months postoperatively the refractive cylinder decreased significantly to 1.12 ± 0.63 D. The mean postoperative UDVA was 79.05 ± 7.48 letters, improving to 83.78 ± 5.60 letters BCVA. The mean IOL rotation was 5.22 ± 5.82° (range: 0.0–32) at month 6 with less than 10° in 88.3 % of eyes. Five eyes needed reoperation due to IOL misalignment.
Conclusions
The Lentis LU-312 T showed some tendency to rotate for up to 6 months. The C-loop design seems to be less suitable for toric IOLs.