11.04.2019 | case report | Ausgabe 4/2019 Open Access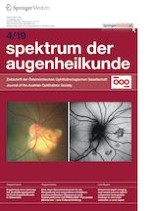 Enhanced depth imaging and swept-source optical coherence tomography findings in choroidal osteoma: a case report
Zeitschrift:
Autoren:

Peter Balsnæs, Dorottya Szabo, Agnes Takacs, Andras Papp, Zoltan Zsolt Nagy, MD, PhD Miklos Schneider
Wichtige Hinweise
The content of this manuscript has not been published by, or submitted for publication to any other journal. The material of this manuscript was not previously presented at a meeting.
Publisher's Note
Springer Nature remains neutral with regard to jurisdictional claims in published maps and institutional affiliations.
Summary
Purpose
The aim of this study was to report the findings from enhanced depth imaging (EDI) and swept-source optical coherence tomography (OCT) in a choroidal osteoma.
Methods
A case study of a patient with choroidal osteoma is presented and discussed.
Results
A 25-year-old woman presented with an asymptomatic peripapillary mass. Fundus examination revealed a yellow–orange, well-defined geographical lesion. B‑scan ultrasonography, corroborated by fundus autofluorescence (FAF) and OCT findings, pointed to the diagnosis of choroidal osteoma. Calcified areas of the tumor were iso-autofluorescent on FAF and hyporeflective on OCT, revealing the morphological patterns of cancellous bone, including a sponge-like pattern and lines indicating lamellae, Haversian canals, and cement lines. Decalcified patches of the tumor were hypofluorescent on FAF and hyperreflective on OCT and showed overlying retinal damage—most prominently depigmentation and retinal pigment epithelium disruptions. A central area of the tumor revealed unusual characteristics; hyperreflectivity on OCT indicating decalcification but isofluorescence on FAF and sharing the same color as the rest of the retina on fundus photography. The area also differed from the other decalcified areas with its cumulus cloud-like appearance. Compared with EDI-OCT, SS-OCT images showed some increased definition of the bony features of the tumor, especially in its deeper layers, as well as a mild reduction of the shadowing caused by overlying retinal vessels.
Conclusion
The morphological features of a choroidal osteoma are demonstrated using EDI- and SS-OCT. Calcified and decalcified areas of the tumor were differentiated, as well as another area showing unexpected characteristics. In our case, SS-OCT imaging revealed very similar features to EDI-OCT.