11.12.2017 | ÖOG Conference Paper | Ausgabe 6/2018 Open Access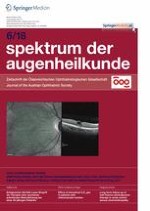 Effect of intravitreal C3F8 gas in patients with vitreomacular traction
A retrospective case series
Zeitschrift:
Autoren:

Anna-Maria Haas, Christoph Mayer, Anton Haas, Werner Wackernagel
Summary
Background
We aimed to assess the efficacy of a single intravitreal perfluoropropane (C3F8) gas injection for the treatment of vitreomacular traction with or without a macular hole.
Methods
In this retrospective case series, seven eyes of six patients with symptomatic vitreomacular traction documented on optical coherence tomography, one with a macular hole additionally, received a single intravitreal C3F8 gas injection of up to 0.3 ml. The primary endpoint was vitreomacular traction release at 1 month after injection. Secondary endpoints included resolution of vitreomacular adhesion within 6 months, nonsurgical closure of macular holes, and change in central foveal thickness and best-corrected visual acuity.
Results
Overall, on optical coherence tomography, six of seven eyes (85.7%) had release of vitreomacular traction during the entire study duration: three within 1 month of injection and the other three within 6 months. Of the latter group, two of the three eyes showed a concurrent epiretinal membrane and one concurrent diabetic retino- and maculopathy. The patient with a macular hole had resolution of vitreomacular traction within 1 month but had to undergo vitrectomy because of nonclosure of the macular hole. Associated adverse events were macular edema with a consequent lamellar hole after injection in one patient, and another patient developed retinal detachment.
Conclusion
Intravitreal C3F8gas injection is an inexpensive and promising minimally invasive option for the treatment of symptomatic and persistent vitreomacular traction with or without a macular hole. Further larger studies, especially comparing C3F8 gas injection with other treatment options, are needed.