24.11.2017 | case report | Ausgabe 6/2017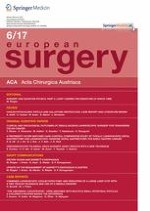 Combined laparoscopic cholecystectomy and deroofing of a large liver cyst with a two trocar technique and use of a needle grasper
Zeitschrift:
Autoren:

MD Hugo Bonatti, Michael J. Fisher
Summary
Background
Laparoscopic cholecystectomy (LC) is usually done using four trocars; techniques to further reduce surgical trauma have been developed. Nonparasitic hepatic cysts (HC) are only treated if symptomatic or malignancy is suspected with laparoscopy becoming the preferred approach.
Case report
A 41-year-old African American male presented with recurrent right (R) upper quadrant (UQ) pain. He was found to have cholecystolithiasis and multiple HCs with the largest located dorsally to segments 4, 5, 8 being >10 cm in diameter. A 5 mm trocar in the left (L) UQ, a 10–12 mm umbilical trocar, and a Teleflex needle grasper between the two trocars were placed. The gallbladder (GB) was removed using a modified dome down technique due to difficult access to the hilum due to the bulging large HC. Following LC, the HC was dissected off the duodenum, gerota fascia, right adrenal gland and inferior vena cava (IVC) and thereafter, the roof was resected using a harmonic scalpel. Resection was incomplete medially due to close proximity with the hilar structures and the IVC. Also a liver wedge biopsy was done. The intra- and postoperative course were uneventful and the patient was discharged after a 23 h observation period. Pathology confirmed chronic cholecystitis, mild hepatic steatosis and inflammation and benign HC wall with chronic inflammation. The patient was asymptomatic for more than 2 years when he developed RUQ pain. On the computed tomography scan, a small recurrent HC close to the liver hilum was identified; however the cause of his pain was a kidney stone.
Conclusions
Combined LC and HC deroofing is a rare procedure. A minimally invasive technique should be the preferred approach. In our case only two trocars were required and the Teleflex minigrasper completely replaced a trocar-based instrument.