16.11.2017 | original scientific paper | Ausgabe 6/2017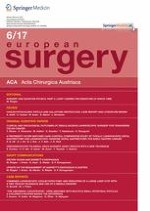 Clinical and oncological outcomes of single-incision laparoscopic surgery for transverse colon cancer
Zeitschrift:
Autoren:

MD, PhD Yasumitsu Hirano, MD, PhD Chikashi Hiranuma, MD, PhD Masakazu Hattori, MD, PhD Kenji Douden, MD, PhD Yasuo Hashizume, MD, PhD Keizo Tanuguchi
Summary
Background
Single institutional consecutive experiences with single-incision laparoscopic surgery (SILS) for transverse colon cancer are reviewed, and the resulting clinical and oncological outcomes are evaluated.
Methods
In all, 59 patients (29 women) with a median age of 71.0 years were treated with SILS for clinically diagnosed colon cancer. A tumor located at the hepatic flexure or within about 10 cm distal to the hepatic flexure was treated by right hemicolectomy. Extended right hemicolectomy was performed in cancer which required the ligation of the root of the mid-colic artery. A tumor at the splenic flexure was treated by left hemicolectomy, and transverse colectomy was performed for other transverse colon tumors.
Results
In 54 patients treated with SILS, the mean skin incision length was 2.67 cm: 26 right hemi-colectomies, 19 transverse colectomies, 4 extended right hemi-colectomies and 2 left hemi-colectomies were performed in this series. The mean operative time and blood loss were 181.9 min and 44.9 mL, respectively. The mean number of harvested lymph nodes was 29.0. Early post-operative complications were occurred in 2 patients (3.7%). The patients were discharged after a mean period of 13.0 postoperative days. Five (11.1%) tumor recurrences or metastases occurred in 45 patients with Stage I to Stage III disease with the median follow-up of 30 months.
Conclusions
Our initial experiences showed that SILS can be used to treat transverse colon cancer with good clinical and mid-term oncological outcomes.