08.09.2017 | review | Ausgabe 6/2017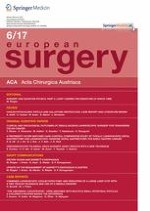 Cholecystocolonic fistula and gallstone obstruction
Case report and literature review
Zeitschrift:
Autoren:

M.D. Alberto Aiolfi, M.D. Chiara Ceriani, M.D. Marco Sozzi, M.D. Stefano Siboni, M.D. Prof. Luigi Bonavina
Wichtige Hinweise
Author contributions.
A. Aiolfi, M. Sozzi, and S. Siboni carried out the literature search; A. Aiolfi, C. Ceriani, and L. Bonavina performed the study design; data collection was done by M. Sozzi and S. Siboni; A. Aiolfi and L. Bonavina analyzed the data; A. Aiolfi, M. Sozzi, S. Siboni, and L. Bonavina interpreted the data; A. Aiolfi and L. Bonavina wrote the manuscript; L. Bonavina critically reviewed the manuscript.
Summary
Background
Mechanical obstruction secondary to colonic impact of a gallstone resulting from a direct cholecystocolonic fistula is a rare event. Although spontaneous resolution has been described, surgical or endoscopic procedures may be required to relieve the obstruction. The overall complication rate related to surgical treatment is relevant because of the acute presentation in elderly patients with multiple comorbidities and high operative risk.
Methods
An extensive literature search over the last two decades (1997–2017) was conducted. MEDLINE, Embase, and Cochrane databases were consulted. All the articles, case reports, and case series that described the management of colonic gallstone obstruction were included in this narrative review.
Results
In all, 41 cases of colonic gallstone ileus were included. The majority of the patients were successfully managed with an open (78%), endoscopic (14.6%), or laparoscopic approach (4.9%). Spontaneous resolution of the mechanical obstruction was described in one case (2.5%). The overall morbidity and mortality rates of the surgical-related procedures were 31% and 9.4%, respectively. In the endoscopic groups, there was no procedure-related morbidity and mortality.
Conclusion
An endoscopic approach may be a better therapeutic option in selected patients with colonic gallstone obstruction unfit for surgery.