04.12.2017 | short communication | Ausgabe 6/2017 Open Access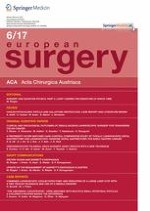 Update on the management of Barrett's esophagus in Austria
Zeitschrift:
Autoren:

M. Riegler, I. Kristo, M. Nikolic, E. Rieder, FACS Univ.-Prof. Dr. S. F. Schoppmann
Summary
Background
Barrett's esophagus (BE) is the premalignant manifestation of gastroesophageal reflux disease (GERD). Radiofrequency ablation (RFA) with and without endoscopic resection (ER) is a novel treatment for BE.
Methods
Here we present a single-center update of the recommendations of a recent (June 2015) interdisciplinary expert panel meeting on the management of BE with dysplasia as well as cancer-positive and cancer-negative BE. We conducted a PubMed search of studies published in 2016 and 2017 on the topic of BE and RFA.
Results
Our update reconfirms that BE positive for T1a cancer as well as low- and high-grade dysplasia justifies the use of RFA ± ER, offering an 80–100% rate of BE clearance. RFA ± ER of dysplastic BE is tenfold more effective for cancer prevention when compared with surveillance. Risk factors for recurrence and follow-up treatments include baseline histopathology (dysplasia/T1a cancer), esophagitis, hiatal hernia >3 cm, smoking habits, BE segments >3 cm, and >10 years of GERD symptoms. A baseline diagnosis for dysplasia and T1a cancer should include a second expert pathologist opinion. Recent data justify the use of RFA for nondysplastic BE only in controlled clinical trials. Antireflux surgery can be offered to those with function-test-proven, GERD-symptom-positive BE before, during, or after RFA ± ER. Additionally, there is growing evidence that the intake of a sugar-rich diet is positively correlated with the development of GERD, BE, and cancer.
Conclusion
RFA ± ER should be offered for dysplastic BE and T1a cancer after ER as well as for nondysplastic BE with additional risk factors in controlled trials. Antireflux surgery can be offered to patients with function-test-proven GERD-symptom-positive BE. Diet considerations should be included in the management of GERD and BE.