01.06.2016 | main topic | Ausgabe 3/2016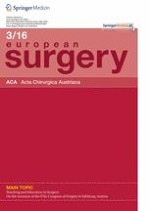 What is needed for surgical training?
Zeitschrift:
Autoren:

Jonas Johannink, Manuel Braun, Jörn Gröne, Markus Küper, Markus Mille, Anjali Röth, Christopher Sleyman, Michael Zaczek, Andreas Kirschniak
Summary
Surgical fields are renowned for being an interesting and attractive vocation on the one hand, but on the other they are afflicted with a notorious workload, poor work–life balance and a long training duration. This results in a noticeable scarcity of job applicants and trainees within the surgical fields per se. In order to tackle these circumstances, various surgical associations have formed task forces destined to cater for the needs and modern day challenges of young and aspiring surgeons. The CAJC ("Chirurgische Arbeitsgemeinschaft junger Chirurgen"/"surgical Working Group for Young Surgeons") was created by the German Society for General and Visceral Surgery (DGAV) and is currently composed of approximately 120 members. Multiple workshops and joint discussions culminated in comprehensive and detailed recommendations on how precisely surgical training can be markedly improved in our hospitals. These suggestions were published on the website of the DGAV and parts of this essay "Weiterbildung to go"/"Training to go" are incorporated in this report.