01.06.2016 | main topic | Ausgabe 3/2016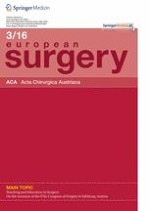 Leadership in the 21st century
Selection of the future chair and training of the next generation
Zeitschrift:
Autoren:

P. Kron, M. Linecker, R. Graf, MD PhD P. A. Clavien
Summary
Background
Leadership is considered important in academic health care systems and the demands on individual leaders are growing. Most often, leadership styles are self-taught by observation and practice. In the past, leadership was primarily defined by the tripod: research, patient care, and education. Beside the three traditional, tasks there is a business-oriented trend in health care, demanding an extreme diversity of abilities, e. g., skills in financial management, communication skills, conflict solving skills, networking, and rewarding skills. Integrating all these aspects to define the profile of a future chairperson has not been possible in the field of academic medicine.
Methods
A literature search for leadership in academic medicine was performed. In addition, the contributions to the conference "Chair4Medicine" were evaluated.
Results
Despite growing requirements for a leadership position, one essential property stayed the same over the years: a leader has to educate the next generation of surgeons and be a good motivator and inspiring teacher. Concerning education, surgery is facing a dilemma, displayed by a continuing decrease of applicants in surgical disciplines over the last years. Ten to 15 years ago, the number of applications for a surgical residency position was larger than the positions available. Today, this situation is clearly reversed, as indicated by a noticeable deficit in recruits. The decision to become a surgeon has become more and more unpopular. Reasons for this development are manifold, but often-mentioned causes are a lack of work–life balance, and a chaotic and non-inspiring training process combined with non-attractive leadership styles.
Conclusions
There is a need for defining objective criteria to identify a future chair in an academic medical center. If the ongoing trend of decreased applications in general surgery continues, we will face a lack of top-motivated surgeons in the close future. More than ever, leadership styles and centers have to rethink their way of teaching and define a new way of being "attractive" for young surgical residents to guarantee the succession of the next generation. Educational opportunities, a clearly structured curriculum, and a productive environment are assumed crucial prerequisites for the next generation. Objective guidelines and instruments for the improvement of education should be developed and implemented.