12.03.2019 | main topic | Ausgabe 11-12/2019 Open Access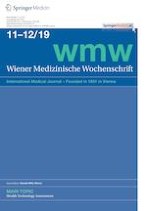 The status of health economic evaluation within decision making in Austria
Zeitschrift:
Autoren:

Ingrid Zechmeister-Koss, Michal Stanak, Sarah Wolf
Wichtige Hinweise
Publisher's Note
Springer Nature remains neutral with regard to jurisdictional claims in published maps and institutional affiliations.
Introduction
Similar to other advanced health care systems around the world, the Austrian health care system faces major challenges in order to maintain universal coverage [
1
]. Accelerated demand for health care services related to demographic change and technological developments have increased the pressure on health care budgets and have threatened sustainability of the universal health system (e. g., [
2
]). Since health care budgets are restricted, every time a new technology enters the health care market, from an economic point of view, resources required to deliver a new intervention must be found by replacing, disinvesting from, (or not investing in) other interventions elsewhere. While some individuals may benefit from the new technology, (silent) displacement may inevitably result in health decrements for others. On top of the disinvestment challenge, health care systems are also confronted with the fact that 20–40% of resources are wasted, meaning that they are spent on ineffective or unnecessary interventions (e. g., duplication of diagnostic tests) [
1
]. The more inefficiently limited health care resources are used, the more likely it is that patients who would have received treatment if resources had been better used will be denied treatments and health improvements. Moreover, inefficiency in the health system may divert resources from other sectors of the economy such as education or long-term care, where the resources could be used productively [
3
]. Given the limited resources compared to the demand for them, rationing—in the sense of withholding health care on economic grounds—is de facto unavoidable [
4
].
As a consequence, efficiency in health care—using resources to get the best value for money [
3
]—has become increasingly relevant within health policy. While efficiency can be addressed in many forms (e. g., measuring hospital performance or comparing treatment alternatives) and at different levels of the health care system (e. g., choice for treatment at the micro-level or resource allocation between primary and secondary care at the macro-level), the issue of value for money has become a topic, particularly in public reimbursement decisions on benefit coverage (e. g., drugs). To facilitate efficient resource allocation, different methods of health economic analysis have been developed to be integrated in reimbursement processes. Key methods applied are health economic evaluations.
This article will address currently used core methods of economic evaluation—cost-effectiveness (CEA) and cost-utility analysis (CUA)—and describe the extent to which they are applied in assessment, pricing, and reimbursement processes internationally and in Austria. Based on the international evidence on essential challenges for using economic evaluations, the Austrian case will be critically reflected and a potential way forward for using economic evidence in Austria in decision processes will be presented. The article is based on the premise that economic evidence ought to have some role in the decision-making process, yet the theory it is based on is not fundamentally questioned.
Materials and methods
While the paper is based on secondary literature overall, the individual sections follow different conceptual approaches. The first section that introduces the methods of economic evaluation (focusing on the key methods of CEA and CUA) describes the core methodological principles based on standard textbooks and published papers on methodological foundations.
The second section (international evidence on the current use of economic evaluations in coverage processes) is based on a recently published information synthesis in which political reports, guidelines, legislative texts, handbooks of ministries, organizations and institutions, as well as journal publications were used to create country profiles [
5
].
For describing the challenges in using economic evaluations (third section), empirical information on factors that hinder their use have been searched for in journal publications and systematically extracted in a tabular form (table available upon request). Studies that were published before 1995 or that were focused on health care systems in developing countries were excluded. The search for publications was based on a hand search and was continued until an exhausted list of challenges was available and additional studies did not add new types of information. The individual challenges were clustered into groups and each cluster was described.
The description of the Austrian health care system and the current use of economic evaluations (section four) is based on published legal documents and health care system reports. For each type of coverage process where economic evaluations have already been used, a case study of an economic evaluation is presented. It describes the purpose of the study, the method that was applied, the core results, and its role in the decision-making process.
In the fifth section, the use of economic evaluations in Austria is systematically analyzed by comparing the Austrian system and economic study characteristics with the clusters of challenges for applying economic evaluations identified earlier. Based on the results, ideas for a potential way forward are presented.
Results
Discussion
Challenges facing the use of economic evaluations in the Austrian system
A potential way forward
The analysis has demonstrated that the challenges with using economic evaluations that have been identified in the international literature seem to also exist in Austria. It is therefore not surprising that economic evaluations have played a negligible role in Austrian coverage processes so far. Some of the challenges could be overcome quite easily if there is agreement among decision makers to systematically use economic evaluations as a source of evidence in reimbursement processes. For instance, education and capacity building will reduce the lack of knowledge among decision makers and increase the capacities of skilled staff involved in critical appraisal of industry studies, which, in turn, will reduce wrong perceptions and misunderstandings. Furthermore, standardization of methods and presentation of results as well as detailed quality criteria will increase the methodological quality of studies, their relevance for the decision problems, and the trust in the studies. To increase transparency, manufacturers could be obliged to submit not just the final study, but also the calculations the study is based on, as is the case in other countries (e. g., UK, the Netherlands, Finland, Sweden), where the decision analytic model has to be submitted alongside the study report. The methodological quality could be increased by a mandatory detailed guideline that clearly sets out the methodological standards and the reporting requirements for industry submissions, but also for economic studies that are commissioned to independent bodies. This shift towards more transparency of the studies would also reduce the perceived risks that economic evaluations may be misused. The submitted models may then be used by the decision makers themselves for analyzing different scenarios (e. g., different price scenarios).
Regarding the process of conducting individual studies, the studies will likely be more relevant if decision makers and those who conduct the studies engage more actively in a communication process before the research starts, whereby the parameters to be addressed in the economic study are clarified (e. g., the type of comparator or the outcome measure used).
In parallel to discussions on efficiency and economic evaluation, a discussion on further attributes of benefit that may be valued alongside health gains (e. g., severity of a disease) needs to be initiated and criteria to represent those attributes need to be defined and made transparent.
Conclusion
The increasing demand and high-priced technologies in health care have forced decision makers to think about how to spend resources wisely, and questions on efficiency have increasingly been on the political agenda in health care systems around the world. While it needs to be acknowledged that measuring efficiency is not a trivial undertaking, we argue that decision makers can no longer afford to ignore efficiency. Some countries have approached this challenge by systematically introducing CEA and CUA into coverage processes. In Austria, this has only happened to a very limited extent and if economic evaluations form a formal part of the evidence that is submitted for decision processes, such as in the reimbursement process for outpatient drugs, their role in justifying decisions or recommendations is currently unclear. Hence, the full potential of the studies in supporting consistent and transparent decisions seems currently not to be realized. This also includes the potential to use economic evaluation in other areas such as clinical guideline development. A number of reasons for this situation have been identified, whereby the biggest barrier seems to be that until now, methodological standards from countries that have rather different health care systems, legal contexts, and cultures have been suggested for Austria without taking into account the Austrian system context, the legal requirements that are the backdrop of specific societal values, and the needs of decision makers. Hence, a discourse is required on whether and how efficiency questions should be addressed in coverage processes. Most importantly, studies have to take the needs of decision makers into account better and may thereby challenge the current methodological discourse, without, however, sacrificing core methodological standards. One way forward could be to produce less prescriptive, but more descriptive economic evidence that simply adds further pieces of evidence, thereby fostering more evidence-informed decisions.
Conflict of interest
I. Zechmeister-Koss, M. Stanak, and S. Wolf declare that they have no competing interests.
Open Access
This article is distributed under the terms of the Creative Commons Attribution 4.0 International License (
http://​creativecommons.​org/​licenses/​by/​4.​0/​
), which permits unrestricted use, distribution, and reproduction in any medium, provided you give appropriate credit to the original author(s) and the source, provide a link to the Creative Commons license, and indicate if changes were made.
Publisher's Note
Springer Nature remains neutral with regard to jurisdictional claims in published maps and institutional affiliations.
Footnotes
1
The "yellow box" in the code of reimbursement summarises drugs that do not qualify for automatic reimbursement. Reimbursement is possible only after prior approval by the chief medical officer based on pre-defined conditions (e. g., restricted for specific subgroups of patients only).
2
The EKO is a positive list that includes all drugs that are publicly reimbursed if prescribed in the outpatient sector. However, drugs that are not included may also be reimbursed if approved by the chief medical officer; hence, a divergence from the core principle of a positive list exists in Austria.
3
HbA1c is a blood parameter which measures glycated hemoglobin and—if measured regularly—gives an overall picture of what the average blood sugar levels have been over a period of time. The higher the HbA1c level, the greater the risk of developing diabetes-related complications.