Erschienen in: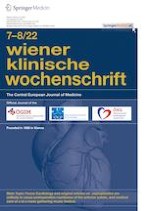 Open Access 06.12.2021 | original article
Lipid lowering therapy in primary and secondary prevention in Austria: are LDL-C goals achieved?
Results from the DA VINCI study
Erschienen in: Wiener klinische Wochenschrift | Ausgabe 7-8/2022
Summary
Background
Cardiovascular disease (CVD) is the most frequent cause of death in Austria. The European Society of Cardiology (ESC)/European Atherosclerosis Society (EAS) guidelines recommend intensive lipid lowering therapy (LLT) in patients at high or very high CV risk. Lipid management and achievement of low-density lipoprotein cholesterol (LDL-C) goals in Austria have not recently been assessed.
Methods
Subgroup analysis for Austria of a European 18 country, cross-sectional, observational study. Patients received LLT for primary (PP) or secondary prevention (SP). Data including LLT in the preceding 12 months and most recent LDL‑C were collected during a single visit between June 2017 and November 2018. Achievement of the risk-based 2016 and 2019 ESC/EAS LDL‑C goal while receiving stabilized LLT was assessed.
Results
A total of 293 patients were enrolled from 8 Austrian sites, of which 200 (PP = 104, SP = 96) received stabilized LLT at the LDL‑C measurement date. Overall, 58% (71% PP, 43% SP) and 38% (52% PP, 23% SP) achieved the risk-based 2016 and 2019 goals, respectively. Most patients received moderate-intensity statin monotherapy (46%), while 34% used high-intensity statin monotherapy. Combination therapy of moderate/high-intensity statin with ezetimibe (12%), or proprotein convertase subtilisin/kexin type 9 (PCSK9) inhibitors with statin ± ezetimibe (1%), was used infrequently.
Conclusion
The current Austrian routine lipid management using mainly moderate-intensity or high-intensity statin monotherapy is insufficient to attain ESC/EAS guideline goals, in particular the more stringent 2019 recommendations, a situation comparable to other participating European countries. In addition to switching to and optimizing doses of high-intensity statins, a combination with ezetimibe or PCSK9 inhibitors will be needed in many cases.
Supplementary Information
Publisher's Note
Springer Nature remains neutral with regard to jurisdictional claims in published maps and institutional affiliations.
Introduction
Cardiovascular (CV) events are the most frequent cause of death in Austria with 36.1% of all deaths occurring in 2020, corresponding to 32,663 lives lost in Austria alone. Women (39.1%,
n
 = 17,908) are more frequently affected than men (33.0%,
n
 = 14,755) [
1
]. Lifestyle, blood pressure and lipid levels are among the core modifiable CV risk factors addressed by the joint guidelines of the European Society of Cardiology (ESC) and the European Atherosclerosis Society (EAS) [
2
,
3
]. There is increasing evidence [
4
‐
6
] that lowering low density lipoprotein cholesterol (LDL-C) levels improves clinical benefit. This led to a further decrease in recommended LDL‑C goals for all patients, moderate to very high risk, in the 2019 edition of the ESC/EAS guidelines [
3
] compared to the 2016 edition [
2
]; however, attainment of guideline-recommended goals has often been demonstrated as being difficult to achieve in clinical practice. A study conducted in Austria in 2009/2010 found that attainment of the then recommended LDL‑C goal of <70 mg/dl was low and differed severely between Austrian federal states ranging from 5.9% to 38.5% [
7
]. Despite an increase in available treatment options, the most recent European Action on Secondary and Primary Prevention by Intervention to Reduce Events (EUROASPIRE V) survey [
8
] showed that as many as 71% of very high-risk patients did not achieve the 2016 ESC/EAS LDL‑C goals in the 27 participating countries; however, results varied widely across countries and even between centers. The Dyslipidemia International Study (DYSIS) II, investigating LDL‑C target attainment, lipid lowering therapy (LLT) usage, and CV outcomes in patients suffering from stable coronary heart disease (CHD) or acute coronary syndrome (ACS) in 17 countries in 2012–2013, showed >90% statin usage in CHD at enrolment at a mean dose of 25 ± 18 mg, but only 65.2% in ACS. The LDL‑C levels <70 mg/dL were only achieved in 29.4% of CHD and 18.9% of ACS patients. The authors mandated intensification of LLT in these very high-risk patients [
9
]. Austrian data are available from DYSIS I published in 2011 by Drexel et al. [
10
] and the results were comparable to the international data published later by Gitt et al. for DYSIS II [
9
]. Most efforts to estimate attainment of LDL‑C goals thus date from periods guided by older iterations of recognized international guidelines, therefore, there was a need to investigate the current situation with the aim to identify potential needs for improvement considering more stringent LDL‑C goals defined by the 2019 ESC/EAS dyslipidemia guidelines.
The aim of the present DA VINCI (EU-Wi
d
e Cross-Section
a
l Obser
v
atio
n
al Study of Lipid-Modifying Therapy Use in Se
c
ondary and Pr
i
mary Care) study was to assess how current clinical practice impacts LDL‑C goal attainment. Therefore, LLT usage for primary and secondary prevention of atherosclerotic cardiovascular disease (ASCVD) in Europe was comprehensively described; the Austrian cohort is presented here and descriptively compared to the previously published overall European DA VINCI findings [
11
].
Patients, material and methods
Full details of the study methods are described in the overall DA VINCI study publication by Ray et al. [
11
]. In brief, this was an international cross-sectional study enrolling adults receiving LLT at primary and secondary care clinics across 18 European countries between 21 June 2017 and 20 November 2018. No formal study visits or study-related procedures were required. Data were collected from medical records at the enrolment visit using a standardized electronic case report form (eCRF) and included patient demographics and clinical characteristics; relevant past medical history, most recent lipid measurement recorded within 14 months prior to (and including) the enrolment visit, all LLT within 12 months before enrolment, history of intolerance to any statin at any dose, reason for LLT prescription in patients without previous ASCVD events and concomitant medications. Statin intensity was defined as per the American College of Cardiology/American Heart Association definition [
12
]. Primary prevention patients were assessed for the 10-year cardiovascular risk using the systematic coronary risk evaluation (SCORE) [
13
]. The SCORE was used to categorize primary prevention patients as low, moderate, high or very high risk. Secondary prevention patients with established ASCVD were categorized as very high risk by default. Estimated 10-year CV risk at LDL‑C measurement in these patients was estimated using the reduction of atherothrombosis for continued health (REACH) score [
14
]. The study schema in Fig. S1 of the online supplemental material shows relevant timepoints and measures.
The study included adult patients aged ≥18 years who were prescribed LLT and who had a documented LDL‑C measurement both within the timeframes defined above. There was an aim to enrol equal numbers of primary and secondary prevention patients on the site level. Secondary care sites aimed to enrol coronary, peripheral and cerebral (arterial) disease patients in a ratio of 1:2:2. Patients were excluded if they had a diagnosis of familial hypercholesterolemia with a history of CV events; further details are provided in Ray et al. [
11
].
Aims and outcomes
The primary outcome was the percentage of patients achieving the LDL‑C goals recommended by the 2016 ESC/EAS guidelines while receiving stabilized LLT, which was defined as no change in dose or regimen for at least 28 days. Secondary outcomes included LLT use (type, dose, frequency; including combination therapy), assessed at the enrolment date and at the LDL‑C measurement date. As the study was completed before publication of the updated 2019 ESC/EAS guidelines, an exploratory post hoc analysis of the percentage of patients achieving the LDL‑C goals recommended in the 2019 guidelines was also conducted.
Statistical analysis
All analyses were descriptive. Continuous variables are reported as mean and standard deviation (SD) or standard error (SE) for normally distributed data, and as median and 25th and 75th percentiles (Q1 and Q3, respectively) for data with a skewed distribution. For categorical variables, the number and percentage of patients in each category are reported.
Results
Discussion
The DA VINCI cross-sectional study of Austrian clinical practice was conducted while the 2016 ESC/EAS dyslipidemia guidelines were in use. The recommended goals were attained by only 58% of Austrian participants with a majority receiving moderate-intensity or high-intensity statins as a monotherapy. Goal attainment was higher in primary prevention (71%) compared to patients in secondary prevention (43%); however, after completion of the present study, updated ESC/EAS guidelines were issued in 2019, advocating more stringent LDL‑C goals. To assess the impact of these new recommendations on required adaptations for clinical practice, attainment of the new goals was estimated and was found to be low (38%), especially in secondary prevention (23%), strongly indicating that treatment needs to be intensified.
Conclusion
DA VINCI shows a large gap between 2016 ESC/EAS dyslipidaemia guideline recommendations and routine clinical practice in high and very high-risk ASCVD patients in Austria. The current routine management using mainly statin monotherapy of moderate or high intensity is inadequate, a situation comparable to other participating European countries. Especially the 2019 ESC/EAS LDL‑C goal for high-risk and very high-risk patients is largely unattainable on statin monotherapy. In addition to optimized high-intensity statins, a combination with non-statin LLT like ezetimibe or PCSK9 inhibitors will be needed to achieve guideline conform treatment in the majority of patients.
Acknowledgements
The authors wish to acknowledge the valuable contributions in patient data collection of the following Austrian investigators: Gudrun Zweiker (general practitioner, Straden), Klaus Distelmaier (Medical University of Vienna, Dept of Medicine II), Thomas M. Stulnig (Medical University of Vienna, Dept of Medicine III), Christoph Ebenbichler (Medical University Innsbruck). Investigators from the other participating countries are listed and acknowledged in the online supplemental material of Ray KK, et al. [
11
]. Medical writing assistance was provided by Margit Hemetsberger, hemetsberger medical services, Vienna, Austria, and was funded by Amgen GmbH, Vienna, Austria.
Funding
This study was sponsored by Amgen Europe (GmbH), Rotkreuz, Switzerland.
Declarations
Conflict of interest
P. Siostrzonek and H. Brath received speaker fees from Amgen. R. Zweiker received fees as a speaker, member of advisory boards or support for scientific projects by Amgen, Sanofi, Daiichi Sankyo, Novartis, Menarini, Bayer, Boehringer Ingelheim, MEDahead, Austrian Medical Association, AstraZeneca. H. Drexel is national principal investigator of the ODYSSEY OUTCOMES trial (Sanofi), has received lecture fees from Boehringer Ingelheim, Sanofi, MSD, Amgen, Servier, Daiichi Sankyo, Novartis and is a member of the advisory boards of NovoNordisk, Boehringer Ingelheim, Sanofi, Amgen. R. Hoelzl is an employee of Amgen and owns Amgen shares. M. Hemetsberger has received consultancy fees from Amgen and holds Amgen stock. K.K. Ray reports grants from Amgen, during the conduct of the study; and personal fees from AbbVie, Aegerion, Akcea, Algorithm, AstraZeneca, Bayer, Boehringer Ingelheim, Cerenis, Cipla, Dr Reddys, Esperion, Kowa, Lilly, The Medicines Company, New Amsterdam, Novartis, Silence Therapeutics, Takeda, and Zuellig Pharma, and grants and personal fees from Amgen, Daiichi Sankyo, MSD, Pfizer, and Sanofi/Regeneron, outside the submitted work.
Ethical standards
The study protocol was approved by the institutional review board or independent ethics committee at each participating site (full protocol available online, ENCePP; registration no. EU PAS 22075). All enrolled persons gave their informed consent prior to inclusion in the study. This study was thus performed in accordance with the 1964 Declaration of Helsinki.
Open Access
This article is licensed under a Creative Commons Attribution 4.0 International License, which permits use, sharing, adaptation, distribution and reproduction in any medium or format, as long as you give appropriate credit to the original author(s) and the source, provide a link to the Creative Commons licence, and indicate if changes were made. The images or other third party material in this article are included in the article's Creative Commons licence, unless indicated otherwise in a credit line to the material. If material is not included in the article's Creative Commons licence and your intended use is not permitted by statutory regulation or exceeds the permitted use, you will need to obtain permission directly from the copyright holder. To view a copy of this licence, visit
http://​creativecommons.​org/​licenses/​by/​4.​0/​
.
Publisher's Note
Springer Nature remains neutral with regard to jurisdictional claims in published maps and institutional affiliations.