24.07.2020 | original article | Ausgabe 6/2020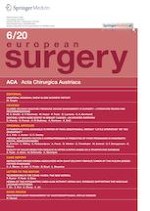 Is fundoplication advisable in repair of para-oesophageal hernia? "Little operation" or "big operation"?
Zeitschrift:
Autoren:

MBBS FRCS FRACS Gregory L. Falk, FRACS MBBS (Hons) BMedSci Leigh Archer, BAdvSci (Hons) Suzanna C. Gooley
Wichtige Hinweise
Publisher's Note
Springer Nature remains neutral with regard to jurisdictional claims in published maps and institutional affiliations.
Summary
Background
It has been observed that not all large hiatus hernia patients have heartburn in their symptom profile at the time of their presentation. Therefore, the necessity of an anti-reflux procedure concurrent with the repair of the large hiatus hernia is contentious.
Methods
A small prospective cohort (21) of consecutive patients diagnosed with giant hiatus hernia were evaluated for symptoms of heartburn and regurgitation at any stage during the history. A pulmonary reflux aspiration scan was additionally performed to detect reflux events objectively.
Results
Heartburn or regurgitation was present in the symptomatic history of 75% (15) of patients. The pulmonary reflux aspiration scan confirmed the occurrence of reflux events in 86% (13) of patients.
Conclusion
These data support the case for routine fundoplication when repairing hiatus hernia, unless otherwise contraindicated. Probably due to the configuration of para-oesophageal hiatus hernias, there is a diminution of reflux symptoms as the hernia progresses. Despite this presentation there is a high level of reflux symptomology and a high level of regurgitation shown objectively by scintigraphy, often culminating in pulmonary aspiration.