Erschienen in: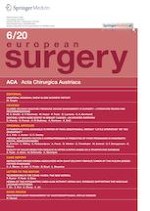 Open Access 24.08.2020 | review
Closed-incision negative-pressure wound management in surgery—literature review and recommendations
Erschienen in: European Surgery | Ausgabe 6/2020
Summary
Background
Wound healing deficits and subsequent surgical site infections are potential complications after surgical procedures, resulting in increased morbidity and treatment costs. Closed-incision negative-pressure wound therapy (ciNPWT) systems seem to reduce postoperative wound complications by sealing the wound and reducing tensile forces.
Materials and methods
We conducted a collaborative English literature review in the PubMed database including publications from 2009 to 2020 on ciNPWT use in five surgical subspecialities (orthopaedics and trauma, general surgery, plastic surgery, cardiac surgery and vascular surgery). With literature reviews, case reports and expert opinions excluded, the remaining 59 studies were critically summarized and evaluated with regard to their level of evidence.
Results
Of nine studies analysed in orthopaedics and trauma, positive results of ciNPWT were reported in 55.6%. In 11 of 13 (84.6%), 13 of 15 (86.7%) and 10 of 10 (100%) of studies analysed in plastic, vascular and general surgery, respectively, a positive effect of ciNPWT was observed. On the contrary, only 4 of 12 studies from cardiac surgery discovered positive effects of ciNPWT (33.3%).
Conclusion
ciNPWT is a promising treatment modality to improve postoperative wound healing, notably when facing increased tensile forces. To optimise ciNPWT benefits, indications for its use should be based on patient- and procedure-related risk factors.
Publisher's Note
Springer Nature remains neutral with regard to jurisdictional claims in published maps and institutional affiliations.
Introduction
Wound complications following surgery may include dehiscence, prolonged secretion and infection. Surgical site infections (SSI) account for approximately 20% of all hospital-acquired infections and result in a prolonged length of stay, increased readmission rate and higher treatment costs [
1
]. In 2 to 5% of patients undergoing inpatient elective surgery, SSI develop after an average length of stay of 9.7 days [
1
,
2
]. Overall, costs of SSI treatment are estimated to amount to 3.5 to 10 billion dollars in the United States per year [
2
]. About 60% of SSI are said to be preventable [
2
]. Several risk factors associated with SSI have been identified and can be divided into intrinsic (i.e. patient-related) and extrinsic (i.e. procedure-related) factors. Intrinsic risk factors can be subdivided into modifiable (e.g. obesity, alcoholism and smoking, but also diabetes, immunosuppression) and non-modifiable (patient age, skin quality and/or microbial environment) [
1
]. Likewise, extrinsic factors can be based on the type of surgical procedure, surgical protocols used for perioperative management and other factors related to the healthcare facility (e.g. surgical caseload per operating theatre, condition of sterile equipment and anaesthetic/surgical infrastructure) [
2
].
Postoperative wound management can be optimized by surgical suture material and wound dressings, as well as by timing and frequency of dressing changes [
1
]. Closed-incision negative-pressure wound therapy (ciNPWT) systems represent a relatively new modulator in this sector.
Closed-incision negative-pressure wound therapy
Postoperative wound management consists of dressing changes based on the postoperative protocol as outlined by the surgeon or facility, and usually involves repetitive intervals for removal of dressings, disinfection and the re-application of a wound dressing [
3
]. However, every dressing change disrupts the wound's microenvironment and potentially increases the risk of SSI. Thus, dressing materials have been developed to remain in place for several days to improve barrier function and support the wound healing process [
3
,
4
].
Closed-incision negative-pressure wound therapy (ciNPWT) has gained importance during the past 20 years [
3
,
5
]. In practice, ciNPWT is applied to a closed/sutured, previously cleaned incision under sterile conditions. A foam is placed on the wound, with or without interposed non-adherent dressings, followed by an occlusive drape [
3
]. Subsequently, negative pressure is applied to the closed system via a suction mechanism (Fig.
1
). Immediate effects of ciNPWT include maintenance of the wound's microenvironment, protection from external contamination, reduction of tensile forces at the wound edges, enhancement of appositional strength, normalization of stress distribution and improvement of skin perfusion [
3
]. Decreased formation of haematoma and seroma were linked to improved vascular and lymphatic flow, and may be an additional mid-term benefit of ciNPWT [
3
]. In the long term, application of ciNPWT was associated with improved mechanical strength of the scar due to a downregulation of genes associated with hypoxia, scarring, impaired wound healing, inflammation and delayed re-epithelialization in early wound healing stages [
3
,
6
]. The increased use of ciNPWT after surgery is reflected by the rising number of publications and manufacturers selling ciNPWT devices.
×
The aim of this review was to provide an overview of the medical literature on ciNPWT in different surgical subspecialties and derive best-practice recommendations highlighting their level of evidence.
Methods
MEDLINE and PubMed were searched for studies analysing ciNPWT use in predefined surgical fields, i.e. trauma and orthopaedics, general surgery, plastic surgery, vascular surgery and cardiac surgery, published from 2009 to 2020. Retrospective case series, case–control studies, prospective non-randomised comparative studies, prospective randomised controlled trials (RCTs), systematic reviews and meta-analyses published in English language were eligible. Case reports, expert opinions, articles in languages other than English, non-systematic reviews, animal studies and study protocols were excluded. All studies included were subsequently classified into levels of evidence (ranging from I to V) according to the Oxford Centre for Evidence-Based Medicine (OCEBM) [
7
]. Studies were summarised according to the main surgical field where ciNPWT usage had been analysed into the subsections "trauma and orthopaedics", "plastic surgery", "cardiac surgery", "vascular surgery" and "general surgery". The latter subsection also contained meta-analyses grouping together studies from different surgical specialities.
Results
Discussion
Published literature on the use of ciNPWT for various surgical indications expresses positive views with regard to clinical experiences. Improved postoperative wound healing, reduced rate of SSI and shortened hospital length of stay were among the reported benefits. 42 of 59 analysed studies (71.2%) discovered a statistically significant beneficial effect of ciNPWT application for incision management in comparison to conventional wound care, 10.2% failed to identify any differences (
n
 = 6) and in 18.6% (
n
 = 11) results were inconclusive. Depending on the clinical speciality, the number of publications and associated level of evidence (i.e. I or II) varied widely (Fig.
2
). In cardiac surgery, the majority had an either retrospective or non-randomised prospective design, whereas several RCTs on this topic in vascular or plastic surgery have been published. The focus of studies for ciNPWT application was centred on specific surgical procedures involving high-risk patients with distinct comorbidities. Patients undergoing vascular surgery were by far more likely to present with multiple comorbidities as compared to patients undergoing primary arthroplasty or even a body lift procedure. It seemed as if a "high-risk collective" (e.g. for developing wound complications) experienced benefits from ciNPWT to a greater extent than a "low-risk collective". This needs to consider the selection bias of all studies, since the application of a ciNPWT system would have required a huge number to treat in the case of "complication-free" or "less complication-prone" interventions. Consequently, none of the reviewed studies focused on this. The cited favourable results for ciNPWT application may, as a result, not necessarily be extrapolated to other surgical interventions. The reviewed reports also contained company-funded research (e.g. by provision of the analysed ciNPWT systems), and we cannot rule out potential conflicts of interest (COI) possibly affecting study results. In fact, 35.6% of studies (
n
 = 21) disclosed COI or financial support (FS) related to their study, whilst none was disclosed in 52.5% (
n
 = 31). No COI-/FS-related information was available in 11.9% (
n
 = 7).
×
Conclusion and recommendations
Recommendations for indications of closed-incision negative-pressure wound therapy (ciNPWT) in the different surgical specialties, their level of evidence and outcomes are listed in Table
6
. Given the focus of this review, patients with complication-prone interventions and/or presurgical risk factors can benefit from ciNPWT, whereas this treatment modality—also in the absence of statistical models to prove this—could not be scientifically proven to outbalance them. Surgical incisions with anticipated increased postoperative tension on wound edges and complicated wound regions most likely benefit from ciNPWT, since it "buys the wounds/incisions some time to stabilise" before stretching and tensile forces act again upon removal of the systems. In the light of the current evidence, we rather refrain from listing any surgical procedures suitable for ciNPWT, but encourage future application settings to be tried and tested by identifying suitable patients benefitting from this therapy. Each case should be planned individually, taking together all intrinsic and extrinsic risk factors prior to application of ciNPWT. Three components for future analysis (and current lack thereof) were revealed by this review: 1) non-inferiority study designs comparing traditional negative-pressurewound therapy (NPWT) systems vs. ciNPWT, 2) cost–benefit calculations for healthcare providers and system specific-outcome markers and 3) quality research (up to RCT level) with unique outcome measures like the Clavien–Dindo classification (complication grading based on intervention type for complications, and not on clinical assessment alone) and patient-reported outcome measures (PROMS; e.g. evaluating patient experience in relation to the use of the system) [
84
].
Table 6
Recommendations when to use closed-incision negative-pressure wound therapy (ciNPWT) with associated levels of evidence and overall significant results achieved
Indications

Level of evidence

Overall significant results

Revision surgery

Primary total joint arthroplasty (+ patient-related risk factors)

Level II, IV

Level I, II

55.6% (5/9)

Surgery with postoperative tension on incision

Hernia repair

Surgery in potentially contaminated areas

Level I

Level I

Level I

90.0% (9/10)

Oncological procedures

Muscular flap harvest

Abdominoplasty

Surgery in potentially contaminated areas (e.g. inguinal region)

Breast reduction surgery

Surgery with subsequent impaired lymphatic drainage

Level III

Level II

Level III, IV

Level IV

Level II

Level II, IV

84.6% (11/13)

Sternotomy

Level III, IV

33.3% (4/12)

Vessel harvest for vascular procedures

Surgery in contaminated areas (i.e. inguinal region)

Level I, II

Level I

86.7% (13/15)
We encourage future research to address these points.
Conflict of interest
M. Smolle, S.P. Nischwitz, M. Hutan, P. Trunk, D. Lumenta and G.A. Bernhardt declare that they have no competing interests.
Open Access
This article is licensed under a Creative Commons Attribution 4.0 International License, which permits use, sharing, adaptation, distribution and reproduction in any medium or format, as long as you give appropriate credit to the original author(s) and the source, provide a link to the Creative Commons licence, and indicate if changes were made. The images or other third party material in this article are included in the article's Creative Commons licence, unless indicated otherwise in a credit line to the material. If material is not included in the article's Creative Commons licence and your intended use is not permitted by statutory regulation or exceeds the permitted use, you will need to obtain permission directly from the copyright holder. To view a copy of this licence, visit
http://​creativecommons.​org/​licenses/​by/​4.​0/​
.
Publisher's Note
Springer Nature remains neutral with regard to jurisdictional claims in published maps and institutional affiliations.