01.12.2016 | original article | Ausgabe 23-24/2016 Open Access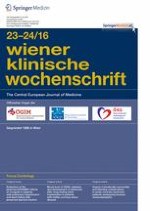 Impact of bivalirudin on mortality and bleeding complications in acute coronary syndrome patients undergoing invasive revascularization
A real world experience
Zeitschrift:
Autoren:

MD Miklos Rohla, MD Ioannis Tentzeris, MD Matthias K. Freynhofer, MD Serdar Farhan, MD Rudolf Jarai, MD Florian Egger, MD PhD FESC Thomas W. Weiss, PhD Johann Wojta, MD Alexander Geppert, MD FESC Adnan Kastrati, MD FACC FSCAI Gregg W. Stone, MD FESC FACC FAHA Kurt Huber
Summary
Background
In a retrospective analysis of a prospective single center registry we compared the use of bivalirudin, unfractionated heparin (UFH) monotherapy, UFH + abciximab in 1240 consecutive patients with acute coronary syndrome (ACS) undergoing stent implantation.
Results
Bivalirudin was associated with tendentially reduced in-hospital minor or major bleeding rates compared to UFH monotherapy (5.9 % vs. 9.4 % adjusted odds ratio (OR) 0.82, 95 % confidence interval CI 0.45–1.51,
p
= 0.53) and compared to the pooled UFH group (5.9 % vs. 11.9 %, adjusted OR 0.62, 95 % CI 0.36–1.08,
p
= 0.09) but with significantly lower bleeding hazards compared to UFH + abciximab (5.9 % vs. 16 %, adjusted OR 0.41, 95 % CI 0.22–0.78,
p
< 0.01). After 3 years of follow-up, adjusted cardiovascular mortality rates were similar between all groups, particularly between bivalirudin vs. UFH monotherapy (hazard ratio HR 1.12, 95 % CI 0.58–2.16,
p
= 0.73) and vs. UFH + abciximab (HR 0.91, 95 % CI 0.40–2.10,
p
= 0.83). Acute or subacute stent thrombosis occurred at a rate of 0.8 % with no significant differences between the groups.
Conclusions
This retrospective analysis in a real world situation of medium to high-risk ACS patients undergoing invasive revascularization confirmed the results of most large-scale randomized trials by demonstrating reduced bleeding rates in favor of bivalirudin vs. UFH + GPI but with no significant differences between treatment strategies for long-term all-cause and cardiovascular mortality.