Erschienen in: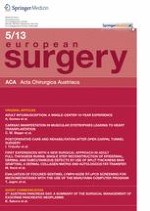 01.10.2013 | Original Scientific Paper
First experiences with a new surgical approach in adult full-thickness burns: single step reconstruction of epidermal, dermal and subcutaneous defects by use of split-thickness skin grafting, a dermal collagen matrix and autologous fat-transfer
Erschienen in: European Surgery | Ausgabe 5/2013
Einloggen, um Zugang zu erhalten
Summary
Background
Deep excision down to the muscle fascia and split-thickness skin grafting is a necessary part in modern surgical care of adult burn patients presenting with full-thickness wounds. We evaluated a new surgical approach combining a dermal matrix, autologous fat-transfer, and split-thickness skin grafting.
Methods
Full thickness burn wounds of five consecutive patients were excised down to the muscle fascia. Parts of the excised adipose tissues were harvested for in vitro analysis of preadipocyte viability and its potential for proliferation and differentiation. The excised fatty tissue was manually harvested by use of a Coleman Liposuction needle mounted on 10 ml syringes, and spread onto a bovine collagen-elastin scaffold (Matriderm®). The sheet was put upside down onto the wound and covered with split-thickness grafts during the same operation. Skin biopsies for histological evaluation were taken on days 30 and 90 postoperatively.
Results
Preadipocytes from excised burn wounds showed cell behavior comparable to healthy fat tissue. FACS Analysis showed 75 % viable cells in the samples which is comparable to healthy fat tissue. Three patients showed more than 90 % vital split thickness skin grafts 10 days after surgery. All skin biopsies confirmed the presence of adipose tissue.
Conclusions
Autologous fat-transfer in combination with a dermal substitute and split-thickness skin grafts seems to be a possible reconstructive procedure for covering defects after deep excision down to the fascia in a single step approach.