23.02.2018 | original article | Ausgabe 7-8/2018 Open Access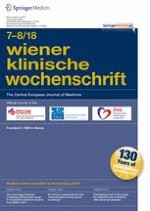 Establishing end-of-life boards for palliative care of patients with advanced diseases
Zeitschrift:
Autoren:

MD, PhD, MSc Eva K. Masel, Matthias Unseld, Feroniki Adamidis, Sophie Roider-Schur, Herbert H. Watzke
Summary
Background
Interdisciplinary tumor board decisions improve the quality of oncological therapies, while no such boards exist for end-of-life (EOL) decisions. The aim of this study was to assess the willingness of hemato-oncological and palliative care professionals to develop and participate in EOL boards. An aim of an EOL board would be to establish an interdisciplinary and comprehensive care for the remaining lifetime of patients suffering from advanced incurable diseases.
Study design
Staff from the interdisciplinary teams of all hemato-oncological and palliative care wards in Vienna were invited to anonymously participate in an online survey.
Results
309 professionals responded. 91% respondents reported a need to establish an EOL board, 63% expressed their willingness to actively participate in an EOL board, and 25% were indecisive. Regarding patient presence, 50% voted for an EOL board in the presence of the patients, and 36% voted for an EOL board in the absence of the patients. 95% had the opinion that an EOL board could improve patient care in the last phase of life. 64% stated that the development of an EOL board would be worthwhile, while 28% did not see enough resources available at their institutions. Regarding the desired type of documentation, 61% voted for a centrally available EOL decision, and 31% supported an in-house-based documentation. 94% voted for the availability of an information folder about EOL care.
Conclusion
The willingness of professionals to establish an EOL board was very high. Further steps should be taken to implement such boards to improve EOL care.