13.04.2018 | educational | Ausgabe 2/2018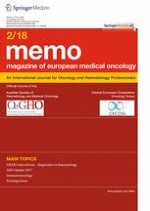 Educational no. 1: Bone marrow diagnostics in hemato-oncological diseases
Cytology, trephine biopsy
Zeitschrift:
Autoren:

MD Michael Vockenhuber, MD Kurt Wiesinger, MD Christine Gruber
Summary
Proliferation or reduction of one or more cell lines in the peripheral blood count, occurrence of cells not normally found in the peripheral blood (e.g., blast cells, red precursors), suspicious laboratory findings (e.g., paraproteins, free light chains), lymphadenopathy of unclear origin, or other clinical signs (e.g., fever, B‑symptoms, bone pain) are indicators of hematologic disease.
The following methods can be used either to establish a diagnosis or to suspect a diagnosis even based on analysis of peripheral blood: cytological cell differentiation, interpretation of cell morphology, laboratory diagnostics appropriate to the case, fluorescence activated cell sorting (FACS) analysis (e.g., immunophenotyping of atypical cells, paroxysmal nocturnal haemoglobinuria (PNH) diagnostics, detection of spherocytes) or genetic examinations (e.g., Janus kinase 2 [JAK2], breakpoint cluster region-abelson murine leukemia virus [bcr-abl]). Examination of bone marrow provides the possibility to confirm or rule out a previously established or suspected diagnosis.
In the process of bone marrow aspiration, material is obtained for cytological examinations, immunophenotyping as well as cyto- and molecular-genetic examinations; additionally a biopsy cylinder for histological examination is acquired.
However, before performing a bone marrow aspiration clinicians need to be aware of the wide range of diagnostic possibilities; adequate material for the whole diagnostic work up is therefore required (i.e., amount of material and correct tubes).
To maximize the outcome of these investigations, various areas of expertise (cytology, immunophenotyping, cytogenetics/molecular genetics and histology) are obliged to cooperate and coordinate closely.