01.09.2014 | original report | Ausgabe 3/2014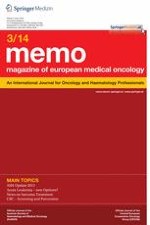 Clinicopathological profile of bilateral breast cancer at a tertiary cancer center in South India
Zeitschrift:
Autoren:

MD, DM K. C. Lakshmaiah, MD Umesh Das, MD, DM K. Govind Babu, MD, DM T. M. Suresh, MD, DM D. Lokanatha, MD, DM Linu A. Jacob, MD, DM Suresh Babu, Prof. G. Mukherjee, Prof. M. Vijayakumar
Wichtige Hinweise
The article was published as a poster in Indian Cancer Congress 2013, Delhi.
Abstract
Background
Bilateral breast cancer (BBC) is an unusual clinical entity. Unlike unilateral breast cancer, there is fewer data regarding clinicopathological aspects and treatment guidelines in BBC. The present study was carried out at a tertiary oncology center in South India to analyze the clinicopathological profile of patients diagnosed with BBC.
Methods
This was a retrospective observational study of patients diagnosed with BBC in the department of medical oncology from August 2012 to July 2013.
Results
Out of a total of 300 breast cancer patients during a 1-year period, 15 had BBC. Synchronous and metachronous breast cancers were seen in six and nine patients, respectively. The median age at presentation for BBC was 40 years. Family history of breast cancer was present only in two cases. The median age of menarche and first child birth was 13 and 22 years, respectively. History of breast feeding was positive in all except one who was nulliparous. Out of the 15 patients, 11 were premenopausal and 4 postmenopausal. Contralateral breast cancer was detected mammographically in 4 patients and by clinical examination in 11. Out of 30 tumors, all were invasive ductal carcinomas (IDC). Nine patients had bilateral mastectomy, and five had unilateral mastectomy. Out of 30 tumors, 14 were triple negative, 9 estrogen receptor (ER)/progesterone (PR) positive, and 7 Her2neu positive. Neoadjuvant chemotherapy (NACT) was given in four synchronous and three metachronous breast cancer cases for contralateral breast cancer. All patients received chemotherapy during the course in the form of either adjuvant or palliative chemotherapy.
Conclusions
BBC is an uncommon clinical entity. For women with younger premenopausal age, the incidence of BBC is higher compared with older women. As the prognosis of BBC is poor, it is crucial to be aware of this entity, and every patient with breast cancer should be regularly followed up. These patients require individualized treatment planning based on the tumor factors and treatment factors of the primary lesion.