01.09.2014 | short review | Ausgabe 3/2014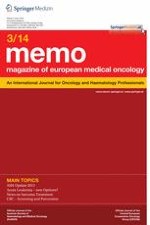 Venous thromboembolism in children with acute lymphoblastic leukemia
Zeitschrift:
Autoren:

PhD Jolanta Skalska-Sadowska, PhD Katarzyna Derwich
Abstract
Venous thromboembolism (VTE) occurs in 0.95–36 % of children with acute lymphoblastic leukemia almost exclusively during chemotherapy. It is most commonly associated with concurrent
l
-asparaginase and steroid therapy, central venous line use, and inherited thrombophilia. Clinical manifestations regarding the location of VTE include central nervous system thrombosis (sinus venous thrombosis, cerebral infarct/stroke), upper-/lower-limb deep venous thrombosis, pulmonary embolism, and right atrial/intracardiac and superficial venous thrombosis and can be both symptomatic and asymptomatic. The majority of thrombotic events are central catheter related. Doppler ultrasound, venography, computed tomography, magnetic resonance imaging, magnetic resonance angiography, ventilation/perfusion scans, and echocardiogram are the methods used in VTE detection. The standard management is
l
-asparaginase discontinuation and low-molecular-weight heparin (LMWH) at 1 mg/kg/dose twice a day (enoxaparin initial therapeutic dose) followed by achieving a serum anti-Xa level of 0.5–1.0 IU/ml for 1–3 months and maintaining this level at 0.1–0.3 IU/ml until the reversible risk factors are resolved. The restarted
l
-asparaginase treatment associated with the highest risk of VTE recurrence should be covered with LMWH prophylaxis. The cerebral sinus venous thrombosis is associated with the most unfavorable prognosis and requires aggressive therapy. Thrombosis prevention in pediatric acute lymphoblastic leukemia is warranted, but the standards of methods and schedules are unknown.