01.01.2016 | case report | Ausgabe 1-2/2016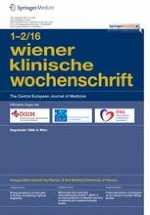 Case report: spontaneous rupture of spleen in patient with
Plasmodium ovale

malaria
Zeitschrift:
Autoren:

Dr. med. univ. Raphael Lemmerer, Dr. med. univ. Manuel Unger, Dr. Matthias Voßen, Ass.-Prof. Priv.-Doz. Dr. Christina Forstner, Priv.-Doz. Dr. Dr. Ahmad Jalili, Dr. med. univ. Peter Starzengruber, Mag. Dr. Johannes Werzowa, Assoc. Prof. Priv.-Doz. Dr. Michael Ramharter, Ao. Univ.-Prof. Dr. med. univ. Stefan Winkler, Univ.-Prof. Dr. med. univ. Florian Thalhammer
Summary
Malaria may lead to spontaneous splenic rupture as a rare but potentially lethal complication. Most frequently, this has been reported in patients infected with
Plasmodium falciparum
and
Plasmodium vivax
, while other parasitic agents are less likely to be the cause.
We report a 29-year-old British Caucasian, who after returning from a business trip in Democratic Republic Congo was diagnosed with tertian malaria caused by
Plasmodium ovale
.
During his in-patient stay, the patient suffered a splenic rupture requiring immediate surgical intervention and splenectomy. Following this surgical intervention, there was an uneventful recovery, and the patient was discharged in a good general condition.