28.10.2019 | short review | Ausgabe 4/2019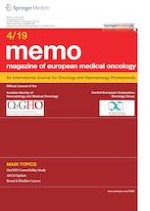 Advanced/metastatic urothelial carcinoma of the bladder and upper urinary tract
Presentation highlights from the ASCO 2019 Congress
Zeitschrift:
Autoren:

MD Assoc. Prof. Georg C. Hutterer, MD Assoc. Prof. Martin Pichler
Wichtige Hinweise
Publisher's Note
Springer Nature remains neutral with regard to jurisdictional claims in published maps and institutional affiliations.
Summary
Three important oral presentations from the ASCO 2019 congress concerning advanced and metastatic urothelial carcinoma of the urinary bladder and the upper tract are highlighted and their potential clinical implications for the improvement of systemic therapies in respective patients are discussed. Enfortumab vedotin, an antibody-drug conjugate targeting nectin‑4, demonstrated a clinically meaningful objective response rate in patients with prior platinum-based chemotherapy and checkpoint inhibition, in a phase II trial. A high unmet need in this heavily pretreated patient population combined with good tolerability and manageable safety profile support a submission to the FDA (US Food and Drug Administration) for accelerated approval. The early use of an immunotherapeutic approach via pembrolizumab in patients with metastatic urothelial carcinoma as "switch maintenance" therapy achieved an objective response rate of 22% vs. 12% in the placebo arm in a phase II trial. Pembrolizumab was shown to potentially "deepen" responses achieved with first-line chemotherapy. Moreover, switch maintenance pembrolizumab was able to significantly delay disease progression, whereby a better characterized role of switch maintenance programmed death‑1 blockade will be refined by currently ongoing phase III trials. Based on data showing that angiogenesis plays an important role in urothelial carcinoma growth and progression, a randomized, placebo-controlled phase III trial tested whether the addition of bevacizumab to gemcitabine + cisplatin combination chemotherapy is able to improve overall survival in metastatic urothelial carcinoma patients in first-line therapy. This trial was negative regarding its primary endpoint; thus, currently the standard of care remains cisplatin-based chemotherapy without the addition of biologic agents in advanced or metastatic urothelial carcinoma.