02.08.2017 | review | Ausgabe 1/2018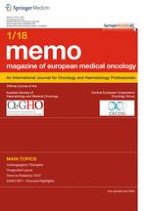 Adolescents and young adults with acute lymphoblastic leukemia and acute myeloid leukemia
Characteristics and treatment outcome
Zeitschrift:
Autoren:

M.D. Mirella Ampatzidou, Charikleia Kelaidi, Michael N. Dworzak, Sophia Polychronopoulou
Summary
At the therapeutic intersection between children and older adults, the treatment of adolescent and young adults (AYAs) with acute lymphoblastic leukemia (ALL) and acute myeloid leukemia (AML) poses unique challenges due to their dismal outcome. In this brief review, we report on the biological features, clinical characteristics and treatment results of a pediatric and AYAs cohort of ALL and AML, treated in our department over a 15-year period. Additionally, we review the recent insights into disease biology, clinical, cytogenetic and molecular characteristics and differences between pediatric patients and AYAs with ALL and AML. In AYAs with ALL, most retrospective trials demonstrated a benefit of pediatric inspired regimens versus adult protocols. Translating the promising pediatric results to the AYAs subgroup, these patients can be successfully treated with risk-adjusted and minimal residual disease (MRD)-guided intensified chemotherapy, with survival rates that can surpass 70%. In AYAs the AML disease is genetically positioned more on the side of adult AML than on that of younger children, but also carries its own specific abnormalities, such as
NUP98-NSD1
. Toxicity may complicate all phases of treatment (induction and post-induction chemotherapy, hematopoietic stem cell transplantation-HSCT) and accounts for increased mortality, which counterbalances reduced cumulative incidence of relapse (CIR), in comparison with younger children. Intensification of supportive care while maintaining treatment intensity could further improve outcomes of AYAs with leukemia. Cooperative efforts between pediatric and adult hematologists are needed in order to further improve survival of AYAs with ALL and AML.