06.02.2019 | main topic | Ausgabe 11-12/2019 Open Access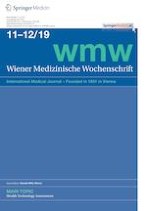 Pre-reimbursement: early assessment for coverage decisions
Zeitschrift:
Autoren:

Nicole Grössmann, Sarah Wolf, Katharina Rosian, Claudia Wild
Wichtige Hinweise
Publisher's Note
Springer Nature remains neutral with regard to jurisdictional claims in published maps and institutional affiliations.
Introduction
Health technology assessment (HTA) has gained increasing importance in supporting decisions. Over time, not only have specific HTA methodologies been developed, but the specific timing of assessments along the life-cycle of medical technologies has also evolved. Early assessments—before the broad diffusion of such health technologies—bear the advantage of supporting transparent, evidence-based reimbursement decisions on benefit catalogues, as well as of assisting budget allocations for costly medicinal products [
1
–
3
]. Depending on the developmental stage in the life-cycle of a health technology, different "early" HTA concepts like early dialogue (before the inception of clinical trials for market approval), early awareness systems or alert systems (for scanning the horizon of technologies in development or before market entry), and early (pre-coverage) assessments can be applied [
1
].
The fast implementation of new and often costly technologies into clinical practice and the high number of medicinal products in the pipeline have led to the introduction of early awareness systems, also called horizon scanning systems (HSS) [
4
–
6
]. Several countries like Sweden, Canada and the Netherlands have incorporated such concepts to make health care systems more effective and efficient through the early identification and prioritisation of emerging expensive and/or clinically relevant therapies [
4
,
7
]. Austria ranks among the top ten countries when it comes to the rapid adoption and implementation of oncology drugs [
8
,
9
]. Therefore, the Ludwig Boltzmann Institute for Health Technology Assessment (LBI-HTA) was commissioned in 2007 to develop and establish an HSS specifically focusing on anti-cancer drugs to provide a basis for better informed pre-coverage decisions [
9
].
Furthermore, many countries maintain benefit catalogues covering medical services and technologies that can be reimbursed. Some benefit catalogues cover all interventions of the in- and outpatient sectors, or—as in Austria—separate catalogues exist for the inpatient and outpatient sectors. In addition to the flat-rate payments based on a diagnosis-related group (DRG) system, costly interventions are reimbursed via a supplementary tariff in Austria. Within this hospital benefit catalogue, highly specialised services, such as medical devices and some specific oncology drugs, are offset as extra medical services (MELs) [
10
,
11
]. Since 2008, the LBI-HTA has been conducting annual HTA reports (evidence syntheses) to support evidence-based, pre-coverage decisions on whether to include new interventions in the Austrian hospital benefit catalogue [
11
,
12
].
This article aims to outline the general process of pre-coverage decision support and the scientific methods applied for early assessments on the basis of two routine programs implemented in Austria: Horizon Scanning in Oncology (HSO) and extra medical services ("MELs").
Materials and methods
To outline the general process of pre-coverage decision support with regard to LBI-HTA-specific methods also on an international level, a narrative-descriptive synthesis of the literature was performed. Therefore, Austrian and international HTA standards of early assessments are incorporated into this article. In addition to a targeted manual search, an internal methods handbook of the LBI-HTA was used as a basis to provide an overview of the methods and processes of early assessments in Austria [
13
]. Basically, both the literature search and selection always followed a consensus-led process in which three researchers (NG, KR/SW) were involved. Differences were resolved through discussion and consensus.
Results
Examples of two early assessment programs
Discussion
Conclusion
Overall, coverage decisions based on early assessment reports not only depend on the available evidence, but are also influenced by the organisation of the health care system and the cross-linking between decision-makers and HTA institutions. Since the early assessments of the MEL program of the LBI-HTA are directly linked to the maintenance and shaping process of the hospital benefit catalogue covering the inclusion or exclusion of new technologies, they have an actual impact on reimbursement decisions and encourage more transparent and evidence-based decisions. Therefore, the use of HTA has become more prospective and proactive rather than solely reactive. In contrast, HSS could facilitate decentralised medical procurement decisions by supporting, for example, drug commissions of hospital owner organisations. Although the HSO program is efficient in identifying new potential indications for cancer drugs, the extent of the actual implication of these assessments on pre-coverage decisions remains unclear. Overall, the article offers a comparison of Austrian early assessments including international methodological standards and a general overview of two different approaches to decision support on costly drugs and medical devices.
Acknowledgements
We would like to thank Ingrid Zechmeister for providing valuable comments on earlier versions of the manuscript.
Conflict of interest
N. Grössmann, S. Wolf, K. Rosian, and C. Wild declare that they have no competing interests.
Open Access
This article is distributed under the terms of the Creative Commons Attribution 4.0 International License (
http://​creativecommons.​org/​licenses/​by/​4.​0/​
), which permits unrestricted use, distribution, and reproduction in any medium, provided you give appropriate credit to the original author(s) and the source, provide a link to the Creative Commons license, and indicate if changes were made.
Publisher's Note
Springer Nature remains neutral with regard to jurisdictional claims in published maps and institutional affiliations.