05.03.2019 | main topic | Ausgabe 3/2019 Open Access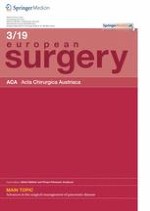 Molecular biology in pancreatic ductal adenocarcinoma: implications for future diagnostics and therapy
Zeitschrift:
Autoren:

MD, PhD Kjetil Søreide, MD Florian Primavesi, MD, PhD Knut J. Labori, MSc Martin M. Watson, MD PD Dr. Stefan Stättner
Wichtige Hinweise
Publisher's Note
Springer Nature remains neutral with regard to jurisdictional claims in published maps and institutional affiliations.
Summary
Background
Novel technology has enabled researchers to better characterize pancreatic cancers at the molecular level. We wanted to explore some of the emerging discoveries, such as molecular subclassification, use of liquid biopsy and use of organoids in cancer assessment.
Methods
A literature review with a search specific to the topic, with recent reviews in major journals and a focus on the last 5 years (until December 2018), was done.
Results
Pancreatic ductal adenocarcinoma (PDAC) may now be classified into clinical subgroups based on the predominant genomic profiles, but consensus on one classification system is lacking. Several subtypes have been suggested, including categories such as basal-like, stroma-activated, desmoplastic, pure classical and immune classical types. Further refinement may translate into clinically meaningful groups for therapeutic or prognostic purposes. Liquid biopsies (by means of circulating cancer cells, cell-free DNA, exosomes or other constituents of cancer cells in blood) may aid in earlier diagnosis, define prognostic groups and even predict therapy response and resistance. Organoids are increasingly used for the opportunity to investigate druggable and effective targets ex vivo and should facilitate personalized and precise, targeted therapy in the near future. While immunotherapy has not yet proved to be effective, a better understanding of molecular subgroups and specific immune profiles may help identify candidates for this approach in a more selective approach.
Conclusion
Novel molecular techniques have the potential to accelerate the road to improved outcomes in patients with pancreatic cancer.