01.01.2014 | original article | Ausgabe 1-2/2014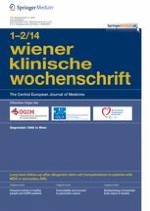 Long-term follow-up after allogeneic stem cell transplantation in patients with myelodysplastic syndromes or secondary acute myeloid leukemia: a single center experience
Zeitschrift:
Autoren:

Alexandra Boehm, Wolfgang R. Sperr, Peter Kalhs, Hildegard Greinix, Peter Valent, Nina Worel, Alexander Kainz, Margit Mitterbauer, Marija Bojic, MD Werner Rabitsch
Summary
Objective and methods
We performed a single center analysis of 60 adult patients (33 males and 27 females) with myelodysplastic syndromes (MDS) or secondary acute myeloid leukemia (AML) who underwent allogeneic hematopoietic stem cell transplantation (HCT) at our institution.
Results
Allogeneic stem cell in patients were transplanted between 1988 and 2010, 28 had an human leukocyte antigen (HLA)-identical sibling donor, 23 had an HLA-identical unrelated donor, and 9 had an 1 allele mismatched donor. The median age at time of HCT was 44 (range: 18–68) years. Conditioning therapy was myeloablative in 36 patients and consisted of a reduced-intensity conditioning (RIC) regimen in 24 patients. Graft-versus-host disease (GvHD) prophylaxis was performed with a combination of methotrexate and cyclosporine A in 36 patients, and cyclosporine A plus mycophenolate mofetil in 24 patients. The 10-year probability of overall survival was 46 %.
Conclusion
In a multivariate analysis, we identified pretransplantation serum ferritin as the only independent adverse prognostic variable predicting survival in our patients.