01.01.2014 | original article | Ausgabe 1-2/2014 Open Access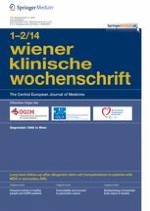 Epidemiology of traumatic brain injury in Austria
Zeitschrift:
Autoren:

Assoc. Prof. Walter Mauritz, Assist. Prof. Alexandra Brazinova, Marek Majdan, Assist. Prof. Johannes Leitgeb
Summary
Background
Traumatic brain injury (TBI) is an important cause of preventable deaths. The goal of this study was to provide data on epidemiology of TBI in Austria.
Methods
Data on all hospital discharges, outpatients, and extra- as well as in-hospital deaths due to TBI were collected from various sources for the years 2009–2011. Population data (number of male/female people per age-group, population of Austrian cities, towns, and villages) for 2009–2011 were collected from the national statistical office. Incidence, case fatality rate(s) (CFR), and mortality rate(s) (MR) were calculated for the whole population and for age groups.
Results
Incidence (303/100,000/year), CFR (3.6 %), and MR (11/100,000/year) of TBI in Austria are comparable with those from other European countries. We found a high rate of geriatric TBI. The ratio between male and female cases was 1.4:1 for all cases, and was 2.2:1 for fatal cases. The most common mechanism was falls; traffic accidents accounted for only 7 % of the cases. Males died more frequently from traffic accidents and suicides, and females died more frequently from falls. CFRs and MRs increased with increasing age. CFRs were higher in patients from less populated areas, and MRs were lower in cases who lived closer to hospitals that admitted TBI.
Conclusions
The high rate of geriatric TBI warrants better prevention of falls in this age group.