01.05.2014 | original article | Ausgabe 9-10/2014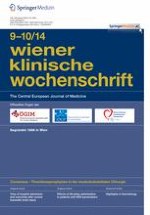 Effects of AV-delay optimization on hemodynamic parameters in patients with VDD pacemakers
Zeitschrift:
Autoren:

MD Konstantin A. Krychtiuk, MD Michael Nürnberg, MD Romana Volker, MD Linda Pachinger, MD Rudolf Jarai, MD Matthias K. Freynhofer, PhD Johann Wojta, MD Kurt Huber, MD, PhD Thomas W. Weiss
Summary
Aim
Atrioventricular (AV) delay optimization improves hemodynamics and clinical parameters in patients treated with cardiac resynchronization therapy and dual-chamber-pacemakers (PM). However, data on optimizing AV delay in patients treated with VDD-PMs are scarce. We, therefore, investigated the acute and chronic effects of AV delay optimization on hemodynamics in patients treated with VDD-PMs due to AV-conduction disturbances.
Methods
In this prospective, single-center interventional trial, we included 64 patients (38 men, 26 women, median age: 77 (70–82) years) with implanted VDD-PM. AV-delay optimization was performed using a formula based on the surface electrocardiogram (ECG). Hemodynamic parameters (stroke volume (SV), cardiac output (CO), heart rate (HR), and blood pressure (BP)) were measured at baseline and follow-up after 3 months using impedance cardiography.
Results
Using an ECG formula for AV-delay optimization, the AV interval was decreased from 180 (180–180) to 75 (75–100) ms. At baseline, AV-delay optimization led to a significant increase of both SV (71.3 ± 15.8 vs. 55.3 ± 12.7 ml,
p
 < 0.001, for optimized AV delay vs. nominal AV interval, respectively) and CO (5.1 ± 1.4 vs. 3.9 ± 1.0 l/min,
p
 < 0.001), while HR and BP remained unchanged. At follow-up, the improvement in CO remained stable (4.9 ± 1.3 l/min,
p
 = 0.09), while SV slightly, but significantly, decreased (to 65.1 ± 17.6,
p
 < 0.01).
Conclusion
AV-delay optimization in patients treated with VDD-PMs exhibits immediate beneficial effects on hemodynamic parameters that are sustained for 3 months.