03.12.2020 | consensus report | Ausgabe 23-24/2020 Open Access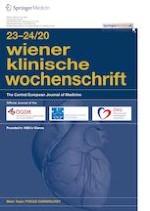 Diagnosis and treatment of cardiac amyloidosis: an interdisciplinary consensus statement
Zeitschrift:
Autoren:

Diana Bonderman, Gerhard Pölzl, Klemens Ablasser, Hermine Agis, Stefan Aschauer, Michaela Auer-Grumbach, Christina Binder, Jakob Dörler, Franz Duca, Christian Ebner, Marcus Hacker, Renate Kain, Andreas Kammerlander, Matthias Koschutnik, Alexander Stephan Kroiss, Agnes Mayr, Christian Nitsche, Peter P. Rainer, Susanne Reiter-Malmqvist, Matthias Schneider, Roland Schwarz, Nicolas Verheyen, Thomas Weber, Marc Michael Zaruba, Roza Badr Eslam, Martin Hülsmann, Julia Mascherbauer
Wichtige Hinweise
D. Bonderman and G. Pölzl contributed equally to this paper.
Publisher's Note
Springer Nature remains neutral with regard to jurisdictional claims in published maps and institutional affiliations.
Summary
The prevalence and significance of cardiac amyloidosis have been considerably underestimated in the past; however, the number of patients diagnosed with cardiac amyloidosis has increased significantly recently due to growing awareness of the disease, improved diagnostic capabilities and demographic trends. Specific therapies that improve patient prognosis have become available for certain types of cardiac amyloidosis. Thus, the earliest possible referral of patients with suspicion of cardiac amyloidosis to an experienced center is crucial to ensure rapid diagnosis, early initiation of treatment, and structured patient care. This requires intensive collaboration across several disciplines, and between resident physicians and specialized centers. The aim of this consensus statement is to provide guidance for the rapid and efficient diagnosis and treatment of light-chain amyloidosis and transthyretin amyloidosis, which are the most common forms of cardiac amyloidosis.